Zwou kleng Kazen aus däischterer Garage gerett
http://www.rtl.lu/letzebuerg/730950.html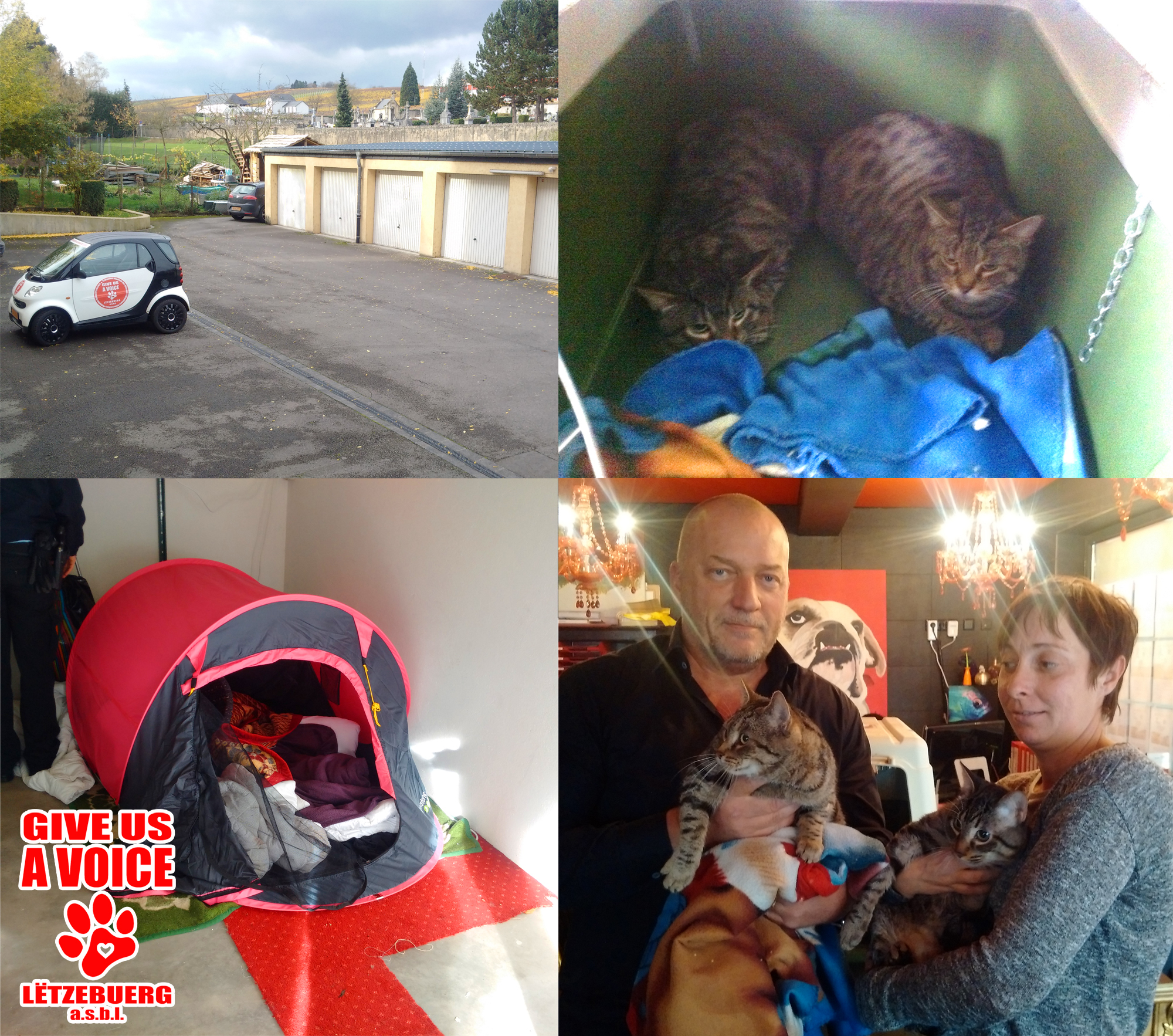 (Lëtzebuergesch – Français – Deutsch – English)
Haut de Muere fréi si mer vun enger Fra vun der Mondorfer Strooss zu Réimech ugeruff ginn, dass se de ganze Weekend aus enger Garage Gejéimers vu Kaze gehéiert hätt! Dorophin si mir selbstverständlech direkt op d 'Plaz gefuer an hu festgestallt dass d 'Fra sech leider net geiert hat! Vu dass d 'Garagen Dier zou war, hu mer d 'Police ugeruff fir d 'Schlass ënner polizeilecher Kontroll op ze briechen. Wat mer do festgestallt hunn huet eis immens traureg gemaach: an där kaler, däischterer Garage louchen 2 total ängschtlech Kazen an hiren Exkrementer an engem zouenen Zelt!
E fräiwëllege Comitésmember vu GIVE US A VOICE ass am Moment bei engem Véi Dokter fir déi arem Déiercher kontrolléieren ze loossen. Elo läit d 'Entscheedung wat mat deene Kätzercher geschéie soll beim Parquet! E grousse Luef a Merci un d 'Police vu Réimech fir hir prompt Hëllef.
Nous avons été avertis par une dame habitant la route de Mondorf à Remich qu'elle a entendu pendant tout le weekend, des miaulements désespérés de chats provenant d'un garage à côté. Nous nous sommes bien entendu de suite rendus sur les lieux où nous avons immédiatement réalisé que la dame ne s'était nullement trompée ! Étant donné que la porte du garage était fermée à clé, nous avons averti la police de Remich, qui s'est rapidement joints à nous et ont forcé la serrure de ladite porte. Nous étions consternés de voir 2 pauvres chats, enfermés dans une tente érigée dans un local froid et sombre, couchés dans leurs excréments !
Un membre bénévole de notre association se trouve pour le moment chez un vétérinaire afin de soigner ces pauvres êtres maltraités. L'avenir des petits chats se trouve maintenant dans les mains du Parquet général ! Un grand Merci de notre part aux agents de la Police de Remich qui ont été rapidement sur les lieux et aidé à libérer les chats !
Heute Morgen wurden wir von einer Einwohnerin der route de Mondorf in Remich per Telefon informiert dass Sie während des ganzen Wochenendes verzweifeltes Miauen aus einer Garage gegenüber ihrer Wohnung hörte! Wir begaben uns selbstverständlich sofort vor Ort wo wir sofort festgestellt hatten dass die Frau sich nicht geirrt hatte! Da das Garagentore sich nicht öffnen ließ, haben wir die lokale Polizei Station angerufen, welch auch kurz danach Beamte zu uns entsendeten. Letztere haben daraufhin das Torschloss mit Gewalt geöffnet. Vor unseren Augen sahen wir, gefangen gehalten in einem geschlossenen Zelt, in einem kalten, dunklen Raum, zwei ängstliche, am ganzen Leib zitternde Kätzchen, welche in ihren Exkrementen lagen! Ein Freiwilliger von GIVE US A VOICE hat die Katzen auf der Stelle zu einem Vieh Arzt zwecks Untersuchung gefahren. Das Schicksal dieser armen Katzen liegt jetzt in den Händen der Justiz. Von unserer Seite ein aufrichtiges Dankeschön an die Beamten der Polizei Remich für Ihren prompten Eingriff!
GIVE US A VOICE received a call from a concerned citizen in Remich because she heard the desperate meowing of cats coming from the garage next door. GIVE US A VOICE went to the scene immediately and heard the same cries. We quickly notified the police who joined us and forced the lock open on the garage. We were dismayed to see two poor cats, locked in a tent in cold, dark, windowless garage, lying in their own feces.
A volunteer from GIVE US A VOICE is currently at a veterinarian to treat these poor creatures. The future of these two cats is now in the hands of the Attorney General's office. We want to give a big thank you to the police officers in Remich who were quick on the scene to help free the cats!
---