Why you should adopt an older dog!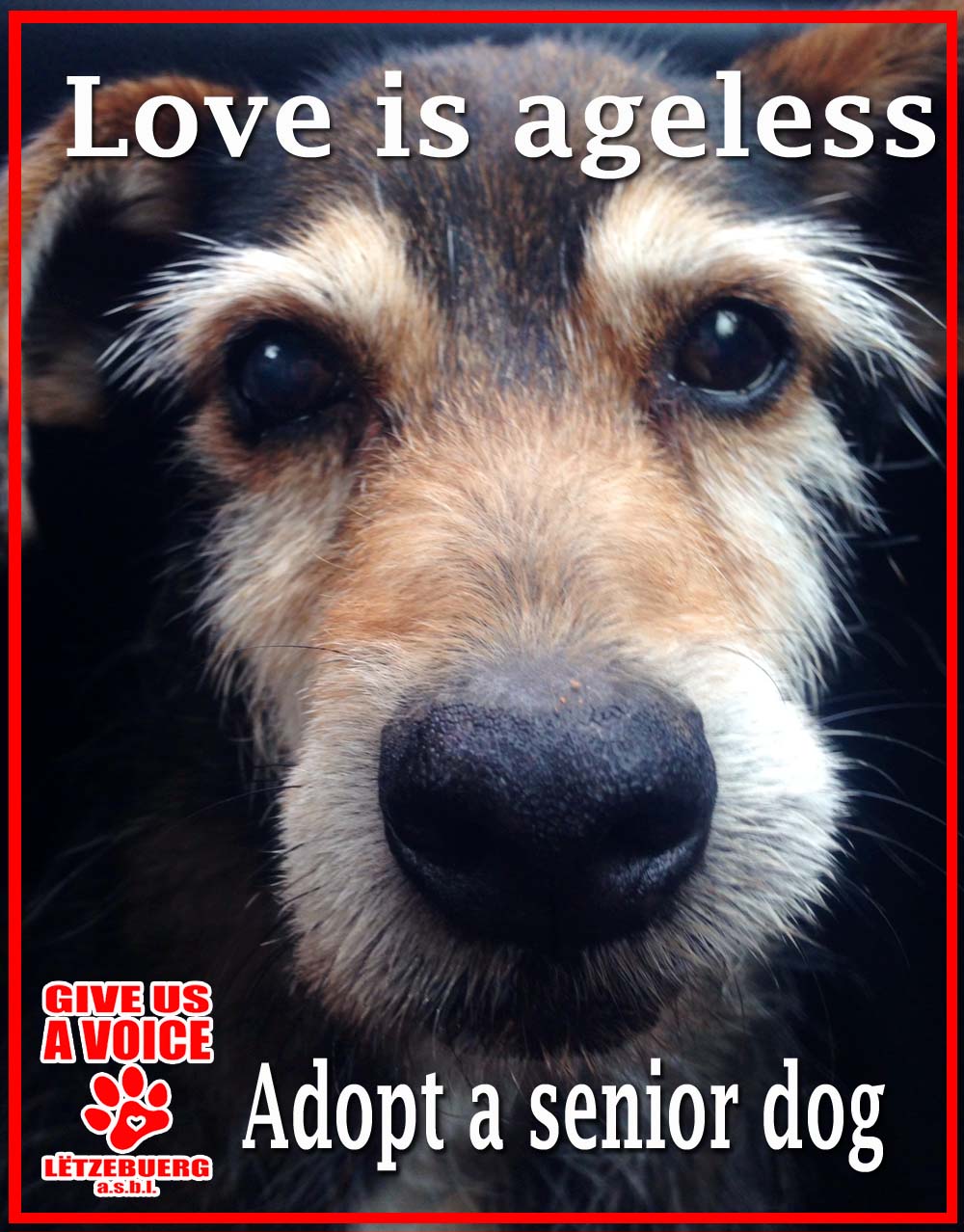 (English – Français – Deutsch)
Why should you adopt an older dog?
Older dogs generally have had some training, both in obedience and house manners.
Older dogs have learned what "no" means and how to leave the furniture, carpets, shoes, and other "chewables" alone.
They have been "socialized" and learned what it takes to be part of a "pack" and to get along with humans and, in most cases, other dogs, and in some other cases, cats, as well.
Older dogs, especially those who have once known it, appreciate love and attention and quickly learn what's expected of them to gain and keep that love and attention.
Older dogs know how to let you finish the newspaper, sitting calmly next to you, while your workday stress flows away and your blood pressure lowers. They are also instant companions, ready for hiking, riding in the car, walking on leash, fetching, etc.
Finally, with older dogs, you know what you are going to get. You don't have to guess what they will look like, how big they'll grow or whether they'll turn out to have serious behavior problems.
Pourquoi adopter un chien d'un certain âge?
Il y a plusieurs raisons! Les chiens plus âgés ont bénéficié d'un entraînement intense aussi bien en obéissance que dans les manières domestiques. Les chiens ayant une certaine maturité ont appris ce que le mot "non" signifie et qu'ils n'ont pas le droit de mordre dans des tapis, des chaussures, des meubles, bref, s'abstenir de tout ce que les chiots ont l'habitude de mâcher ou de mordre.
Ils ont été socialisés et ont appris à se débrouiller avec des êtres humains et, dans la plupart des cas aussi avec d'autres chiens, voire même des chats. Les chiens d'un certain âge, spécialement ceux qui l'ont appris dans le temps, apprécient à sa juste valeur l'affection et l'amour dont ils bénéficient et apprennent rapidement ce qu'on attend d'eux pour justifier l'amour et l'affection dont ils profitent.
Voilà pourquoi nous vous supplions de donner une chance à un chien âgé la prochaine fois que vous avez l'intention de vous lancer dans cette magnifique aventure qu'est de vire ensemble avec un chien qui vous aime et qui vous rend tout l'amour que vous lui donnez!
Wieso sollte man einen älteren Hund adoptieren?
Da gibt es mehrere plausible Gründe!
Ältere Hunde haben von einem intensiven Training in ihrer Jugend profitiert was Gehorsam sowie das Benehmen im Innern des Hauses anbelangt. Die Hunde mit einer gewissen Reife haben gelernt was das Wort « Nein ! » bedeutet und dass sie unter keinen Umständen Teppiche, Schuhe, Möbel, kurzum alles was die Welpen so gerne ankauen, absolut untersagt sind!
Sie sind umgänglich und haben gelernt mit Menschen, und in den meisten Fällen mit anderen Hunden und sogar Katzen zurecht zu kommen. Hunde mit einem gewissen Alter geniessen die Geborgenheit und Liebe die sie erhalten und haben sehr schnell gelernt was man von ihnen erwartet, damit sie geliebt und liebkost werden.
Wegen all diesen Vorteilen bitten wir Sie einem älteren Hund bei einer Adoption eine Chance zu geben und zusammen mit ihm das wunderschöne Abenteuer, was das Zusammenleben mit einem treuen Hund bedeutet, anzugehen. Sie werden merken wie schnell Sie die Liebe die Sie ihm schenken auf das Mehrfache zurück erhalten ! Wir bedanken uns jetzt schon für Ihre Entscheidung ihr alltägliches Leben mit einem alten Hund zu teilen!
---