Wenzu, Darlene and Beano all find their happy ever afters!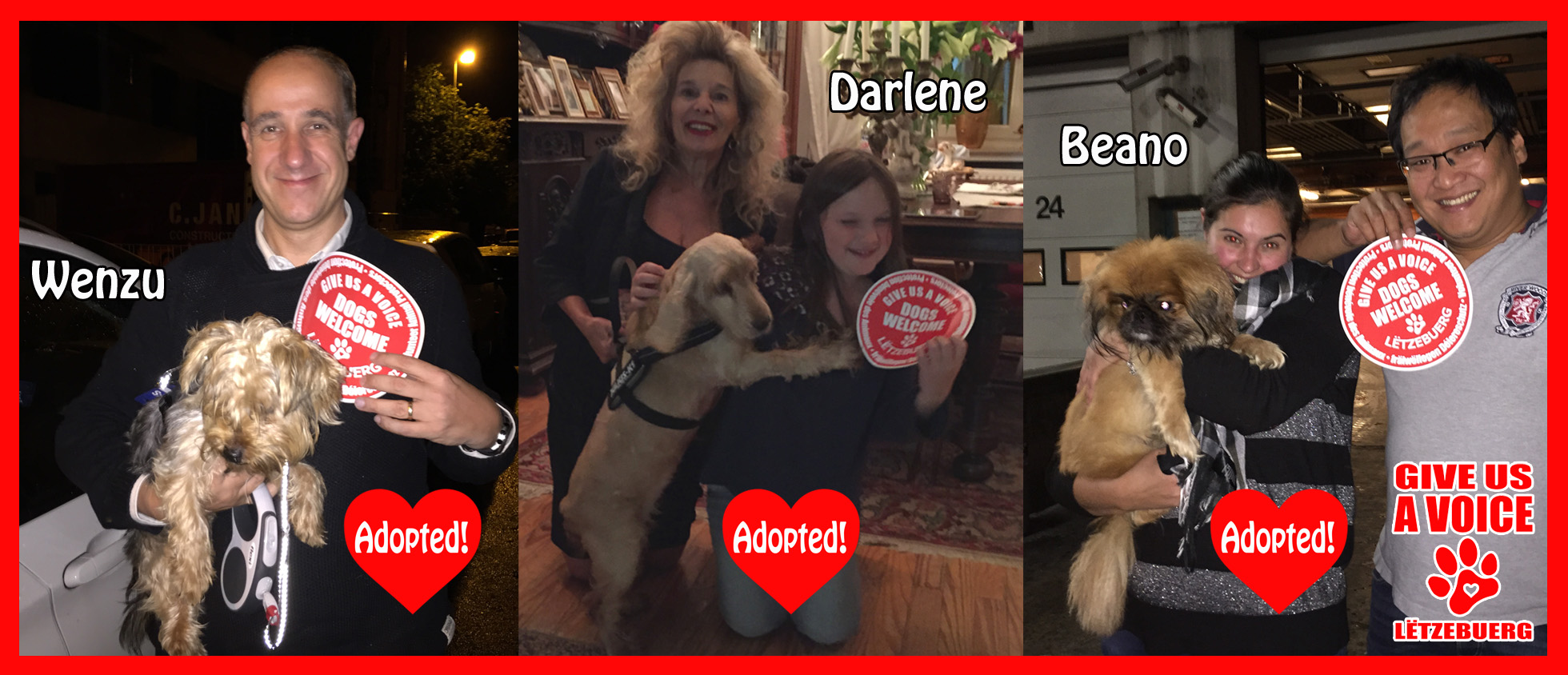 (English – Français – Deutsch)
It was a happy weekend in Luxembourg as three families grew by one more! Mr. & Mme. Caillol gave a street dog a second chance and welcomed Wenzu into their home. Darlene, the 8 year old Cocker Spaniel was lucky to find a wonderful home with the Scholter family. And lastly, little Beano, the dog that was discarded by his owner at the shelter found a forever home with Mr. & Mme. Rombaut. GIVE US A VOICE would like to give a big THANK YOU to these families for deciding to adopt and not shop.
Ce fut un weekend extraordinaire pour trois familles qui ont, toutes les trois, adopté un nouvel ami. En effet, Monsieur et Madame Caillol ont adopté Wenzu. La famille Scholter a offert une seconde chance à Darlene, un Cocker âgé de 8 ans, tandis que Beano, un pauvre chien qui a été abandonné par son propriétaire, fait dorénavant partie de la famille Rombaut. Give us a Voice tient à remercier vivement ces trois familles d'avoir sauvé ces trois merveilleux chiens d'un futur désolant en leur offrant une seconde chance bien méritée!
Happy End für 3 Hunde!
Wenzu, ein Streuner aus Malta, wurde von Familie Caillol aufgenommen. Darlene, ein liebevoller 8 jähriger Cocker hat ein neues Heim bei Familie Scholter gefunden. Schlussendlich gibt es eine ausgleichende Gerechtigkeit für Beano, ein leidgeprüfter Hund der von seinem früheren Besitzer verstossen und in ein Tierheim abgeschoben wurde! In der Tat wurde er von Familie Rombaut aufgenommen! Give us a Voice bedankt sich vielmals bei den 3 Familien und wünscht Ihnen viel Freude mit den neuen Familienmitgliedern
---