Un Grand Merci à e Michel Rodange!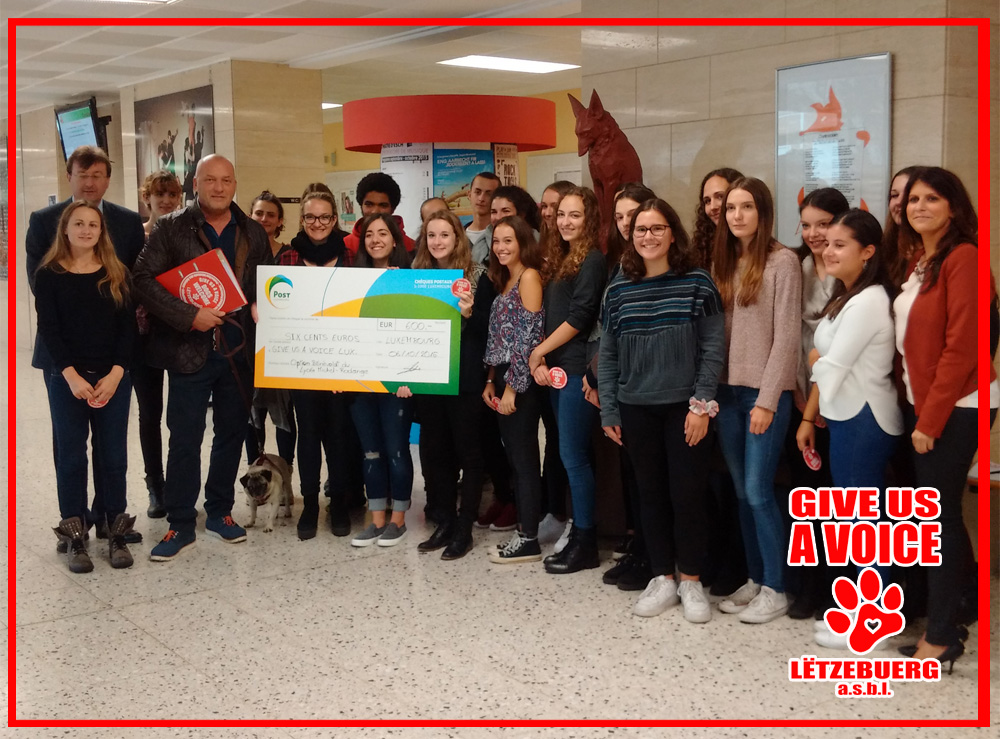 (Français – Deutsch – English)
Un Grand Merci à Mme Galli Sandra et ses étudiants de la classe Option Bénévolat 2e du Lycée Michel Rodange.
Le Président Daniel FRERES ainsi que tous les membres du Conseil d'Administration de GIVE US A VOICE asbl sont très honorés de votre initiative et vous en remercions vivement en notre nom personnel ainsi qu'au nom de tous nos amis les animaux! Nous nous réjouissons donc de chaque don en espèce qui nous permet d'offrir une meilleure vie à des animaux en détresse, maltraîtés voire abandonnés par leurs propriétaires! Votre geste généreux nous va droit au cœur.
Ein Grosses Dankeschön an Frau Galli Sandra und ihren Schülern aus der Klasse Option Bénévolat 2e aus dem Lycée Michel Rodange.
Unser Präsident Daniel FRERES sowie alle Mitglieder des Verwaltungsrates von GIVE US A VOICE sind sehr angetan von Ihrer löblichen Initiative. Wir bedanken uns recht herzlich für Eure noble Spende. Eure noble Geste erlaubt es den Verantwortlichen von GIVE US A VOICE, welche allesamt im Benevolat tätig sind, Nahrung und Medikamente zu kaufen und somit vielen Tieren vor einem sicheren Tod zu retten!
GIVE US A VOICE would like to give a big THANK YOU to Ms. Sandra Galli and her students from the 2nd Volunteer Class at Michel Rodange School.
President Daniel FRÈRES, as well as the members from the Board of Directors of GIVE US A VOICE association are very honored by your initiative. We thank you very much on our behalf and on behalf of all our animal friends! Your generous donation will allow us to provide a better life for animals in distress and those abused and abandoned by their owners. Together we are making a difference!
---