Spartacus finally gets a break!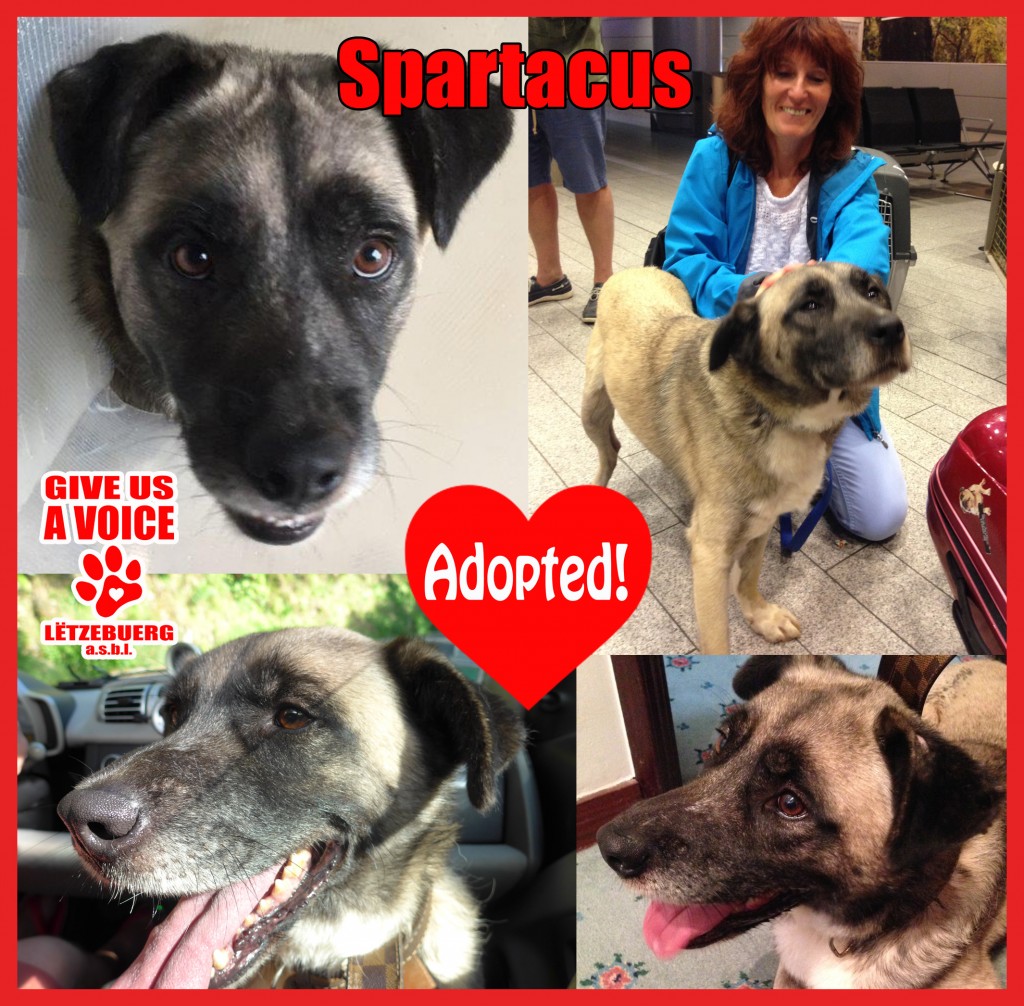 (English – Deutsch – Français)
Recently we told you about Spartacus, the poor boy who was dumped in the mountains by his owner and left to die. When we found him, he had made his way to a road, had been hit by a car and was dirty, scared, lonely and limping.
We are extremely happy to report that Spartacus finally received some good news: his foster family was so taken with him that they decided to keep him – forever! We are thrilled that Spartacus found a wonderful and loving home where he can feel secure and live happily ever after.
GIVE US A VOICE would like to give a big THANK YOU to the Bichel family for giving Spartacus a second chance. He is extremely lucky to end up in their care.
We would also like to thank Mme. Graça Rosa for helping us get Spartacus fixed up, providing him with shelter and getting him ready to travel from Portugal to Luxembourg. We couldn't have done this without you!
D A N K E von ganzem Herzen !
Neulich haben wir Ihnen die grauenvolle Geschichte von SPARTACUS mitgeteilt, dieser arme Hund, welcher von seinem Besitzer in den Bergen ausgesetzt wurde mit dem Ziel dass das arme Tier dort verhungere!
Als wir ihn aufgegriffen haben, hatte dieser bedauernswerte Hund die ganze Strecke aus den Bergen bis in die Stadt laufend zurückgelegt. Zu allem Überfluss wurde er noch von einem fahrenden Auto angestoßen und verletzt. So fanden wir ihn, hinkend wegen seinen Verletzungen, schmutzig, ängstlich zitternd und sehr einsam.
Deshalb sind wir umso stolzer und glücklicher Ihnen mitzuteilen dass SPARTACUS endlich seinen Lebensmut zurückgefunden hat und dass die Qualen, die er erlitten hat, nur noch schlechte Andenken sind.
Die Familie, welche ihn provisorisch aufgenommen hat bis wir ein neues Heim für ihn finden würden, war der Maassen angetan von der Persönlichkeit und dem gutmütigen Wesen von SPARTACUS, dass sie spontan entschieden haben, ihn definitiv zu adoptieren! Wir sind überaus stolz und glücklich dass dieser leidgeprüfte Hund endlich eine Familie gefunden hat, welche Ihm das Leben und die Fürsorge schenken werden, die er verdient!
Die Verantwortlichen von GIVE US A VOICE LUXEMBOURG bedanken sich bei der Familie BICHEL dass Sie SPARTACUS eine zweite Chance gegeben haben.
Ein großes DANKESCHÖN aber auch an Frau Rosa GRACA, die ihn die ganze Zeit vor seiner Abreise nach Luxemburg verpflegt hat und ohne die wir diese Aktion nicht erfolgreich zu Ende hätten bringen können und somit dem Martyrium unseres lieben Hundes kein Ende hätte setzen können.
Un grand M E R C I !!
Nous vous avons déjà raconté la terrifiante histoire de SPARTACUS, le pauvre chien qui a été abandonné par son maître dans les montagnes dans le seul but qu'il y meure affamé ! Quand nous l'avons trouvé, il est rentré tout le chemin vers la route, pour y être happé par une voiture. Blessé, sale, peureux, esseulé il boita à cause de ses blessures graves.
Nous sommes heureux et fiers de vous annoncer que SPARTACUS a enfin retrouvé la sérénité et que les affreux moments qu'il a vécus ne sont plus que de mauvais souvenirs.
La famille qui l'adopta provisoirement fut tellement éprise du personnage et du caractère de SPARTACUS, qu'elle a spontanément décidé de l'adopter définitivement !
Nous sommes ravis que notre pauvre chien ait enfin trouvé une famille où il pourra passer le reste de sa vie, entouré de personnes qui le câlinent, le soignent et lui offrent la qualité de vie qu'il mérite !
Les responsables de GIVE US A VOICE LUXEMOURG tiennent à remercier vivement Madame et Monsieur BICHEL d'avoir donné une deuxième chance à SPARTACUS !
Un autre grand MERCI à Madame Rosa GRACA de l'avoir abrité et pris soin de lui avant le transfert du Portugal vers le Grand-Duché. Sans son aide précieuse, nous n'aurions jamais été en mesure de sauver SPARTCUS de son atroce calvaire !
---