Snickers, the three-legged pup finds a loving home!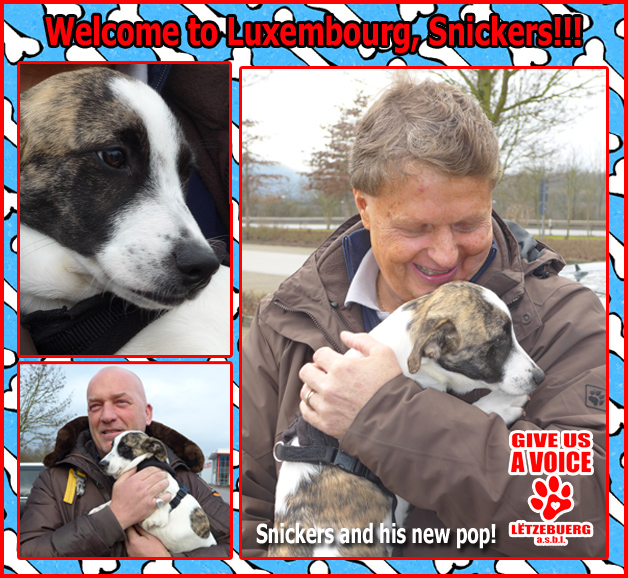 GIVE US A VOICE could not be more thrilled for Snickers! This little guy was born in an animal shelter in Gran Canaria with only three paws, drastically reducing his chances of finding a forever home. Thankfully, Mr. & Mme. Bichel-Nilles, members of the GIVE US A VOICE committee, decided to open their hearts and their home to this lucky pup. His new family already has two rescue dogs with three legs so we know he will be well taken care of and fit in great!
GIVE US A VOICE would like to thank Mme. Michaela Mulzer-Engelhard and her team for helping to raise Snickers into the adorable pup his is today. We would also like to thank his flight sponsors and Carolin Ferhig for getting Snickers from Gran Canaria to Luxembourg. Finally, we would like to give a great big thank you to Mr. & Mme. Bichel-Nilles. They are a wonderful friend to animals and we know that Snickers couldn't have asked for a better forever home.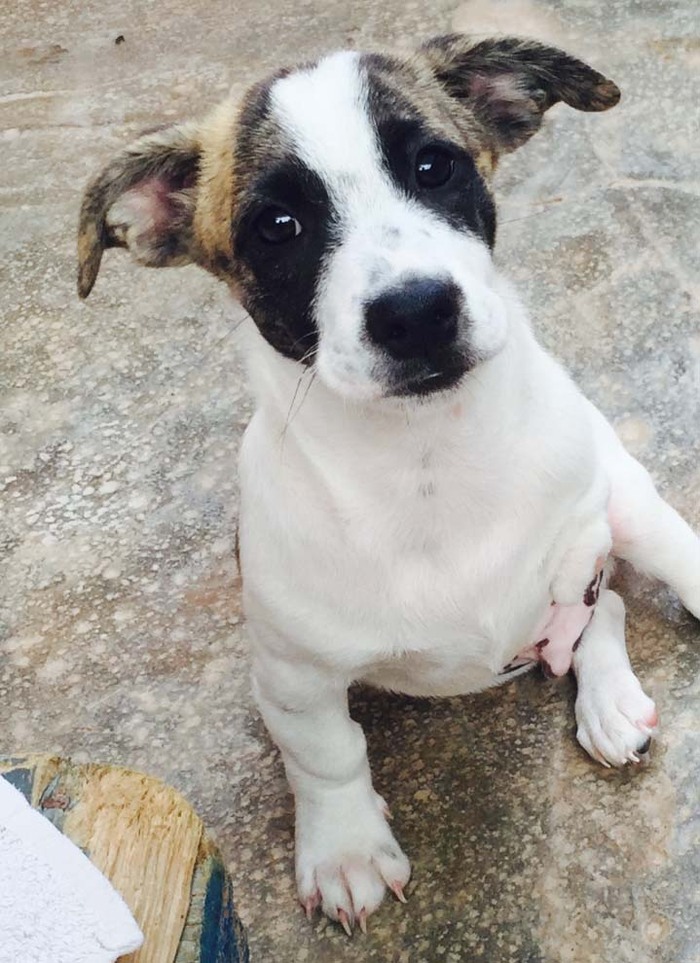 Déi Responsabel vu Give us a Voice freeën sech wahnsinneg fir de Snickers, e klengen Hond deen an engem Déierenasyl op Gran Canaria op d'Welt komm ass. Well de Snickers mat nëmmen 3 Patten op gebuer ass, waren séng Chancen adoptéiert ze ginn gläich Null!
Gott sei Dank gëtt et Leit wéi d'Madame Christiane BICHEL-NILLES an den Här Romain BICHEL, alle béid Comitésmember vu Give us a Voice. Si hu spontan décidéiert hirem Häerz e Stouss ze ginn an de Snickers bei sech opzehuelen. D'Famill Bichel huet schon 2 Hënn mat nëmmen 3 Been, sou dass mer iwwerzeegt sinn, dass de Snickers kee bessert Heem hätt fanne kënnen!
Give us a Voice hält drop der Madame Michaela MULZER-ENGELHARD an hirem Team e grousse Merci auszespriechen dass se de Snickers an hirem Heem grouss gezunn hunn. En aaneren opriichte Merci geet un d'Madame Carolin Fehrig, déi de Snickers um Wee vu Frankfurt op Lëtzebuerg begleet huet. E leschte Merci geet un eis Comitésmeberen, den Här an d'Madame Bichel. Si hunn op e neits bewisen wéi eng grouss Déierefrënn se sinn. Esou Leit maache Give us a Voice all Éier!
Les responsables de Give us a Voice se réjouissent énormément pour Snickers, un jeune chiot qui est venu au monde à Gran Canaria avec seulement 3 pattes. Vu son handicap, ses chances d'être adopté par quelqu'un étaient quasiment nulles.
Dieu soit loué que la grande famille de Give us a Voice compte parmi ses membres du comité des gens tels que Monsieur et Madame BICHEL-NILLES ! Les deux ont spontanément décidé d'adopter ce pauvre malchanceux et de l'emmener chez eux au Grand-Duché, où ils sont déjà propriétaire de deux petits chiens à 3 pattes ! Nous sommes persuadés que Snickers n'aurait pas pu tomber mieux !
Les responsables de Give us a Voice tiennent à exprimer leur gratitude à madame Michaela MULZER – ENGELHARD et son équipe, qui ont élevé Snickers dans leur asile. Un autre grand merci au sponsor du ticket d'avion ainsi à Madame Carolin FEHRIG, qui a acheminée Snickers de Francfort a Luxembourg. Un ultime, mais flambant Merci à nos deux membres du comité, les époux BICHEL-NILLES. Par leur geste généreux, ils ont, à nouveau, démontré qu'ils sont de vrais amis des animaux. La grande famille de Give us a Voice est très fière de les compter parmi les membres du comité !
---