Mayla gets another chance!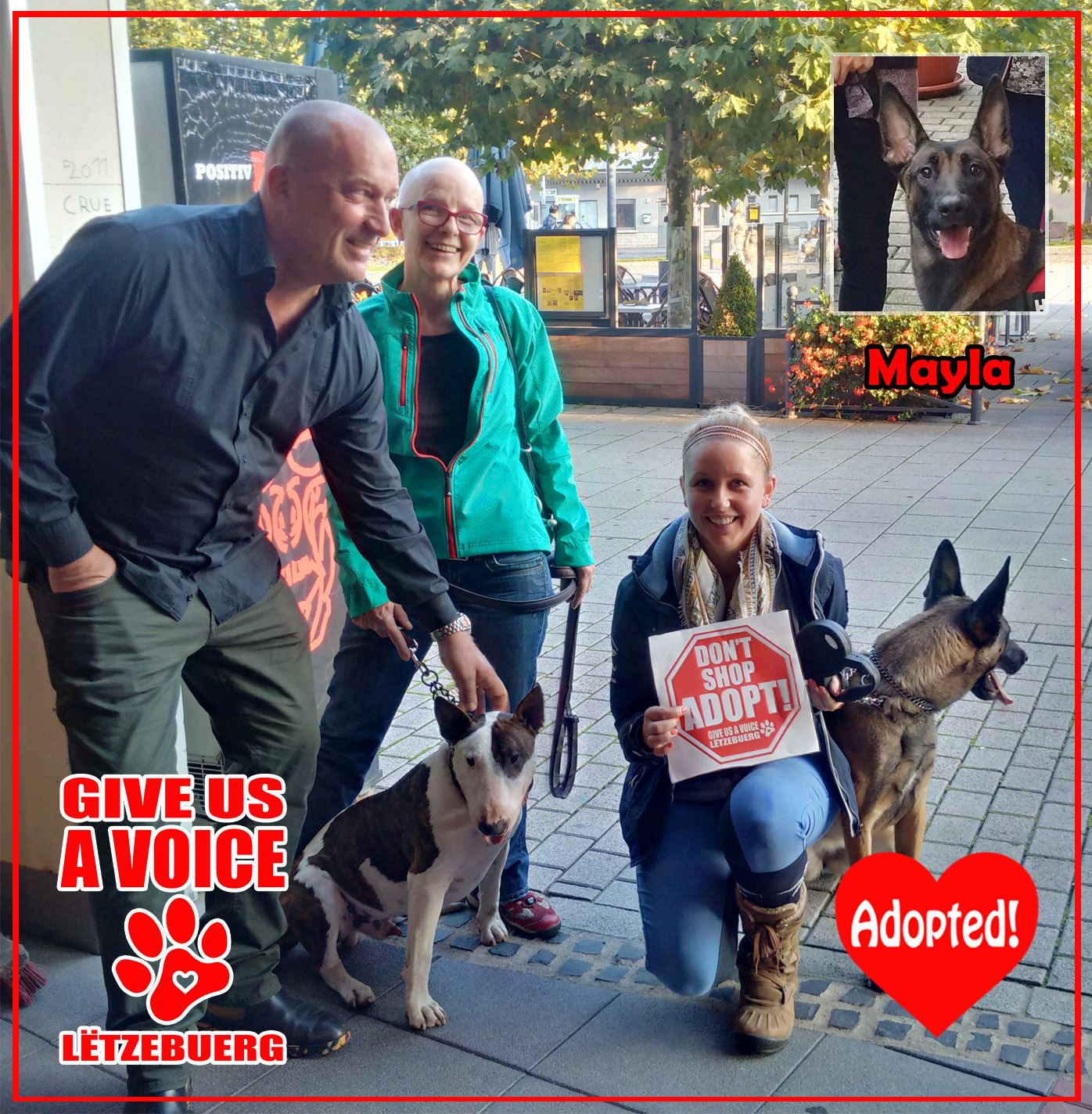 (Français – Deutsch – English)
Il y a quelques semaines, GIVE US A VOICE annonça que Mayla, un Malinois âgé d'un an eut trouvé un foyer. Or il s'avérait que ledit foyer ne convenait pas à nos attentes. Voilà pourquoi nous nous empressons de vous annoncer que nous avons finalement trouvé la famille idéale pour notre pauvre Malinois. Les nouveaux propriétaires sont habitués à élever des chiens d'une certaine taille, spécialement des Malinois. Ce fut le coup de foudre entre eux et Mayla. Un grand Merci à Madame Schwer d'avoir ouvert son cœur et sa maison à ce merveilleux chien !
Vor einigen Wochen haben wir über diesen Weg mitgeteilt dass die 1 jährige MAYLA einen neuen Besitzer gefunden hat. Unglücklicherweise stellte es sich heraus dass die neue Bleibe ungeeignet für MAYLA war. Deshalb freut es uns umso mehr dass wir schlussendlich eine liebe Familie gefunden haben die im Umgang von größeren Hunden, speziell mit Belgischen Schäferhunden, sehr erfahren sind. Es war Liebe auf den ersten Blick zwischen MAYLA und Frau SCHWER, die nicht nur Ihr Herz, sondern auch Ihr Haus für die liebe MAYLA geöffnet hat!
A few weeks ago, GIVE US A VOICE posted that 1 year old Mayla had found a home. It turns it wasn't the right fit but we are happy to announce that we did indeed find the right home for her. Her new owners are experienced in raising large dogs, particularly Malinois and have fallen in love with her. We would like to thank Mme. Schwer for opening up her heart and her home to this beautiful dog.
---