Luca becomes a Luxembourger!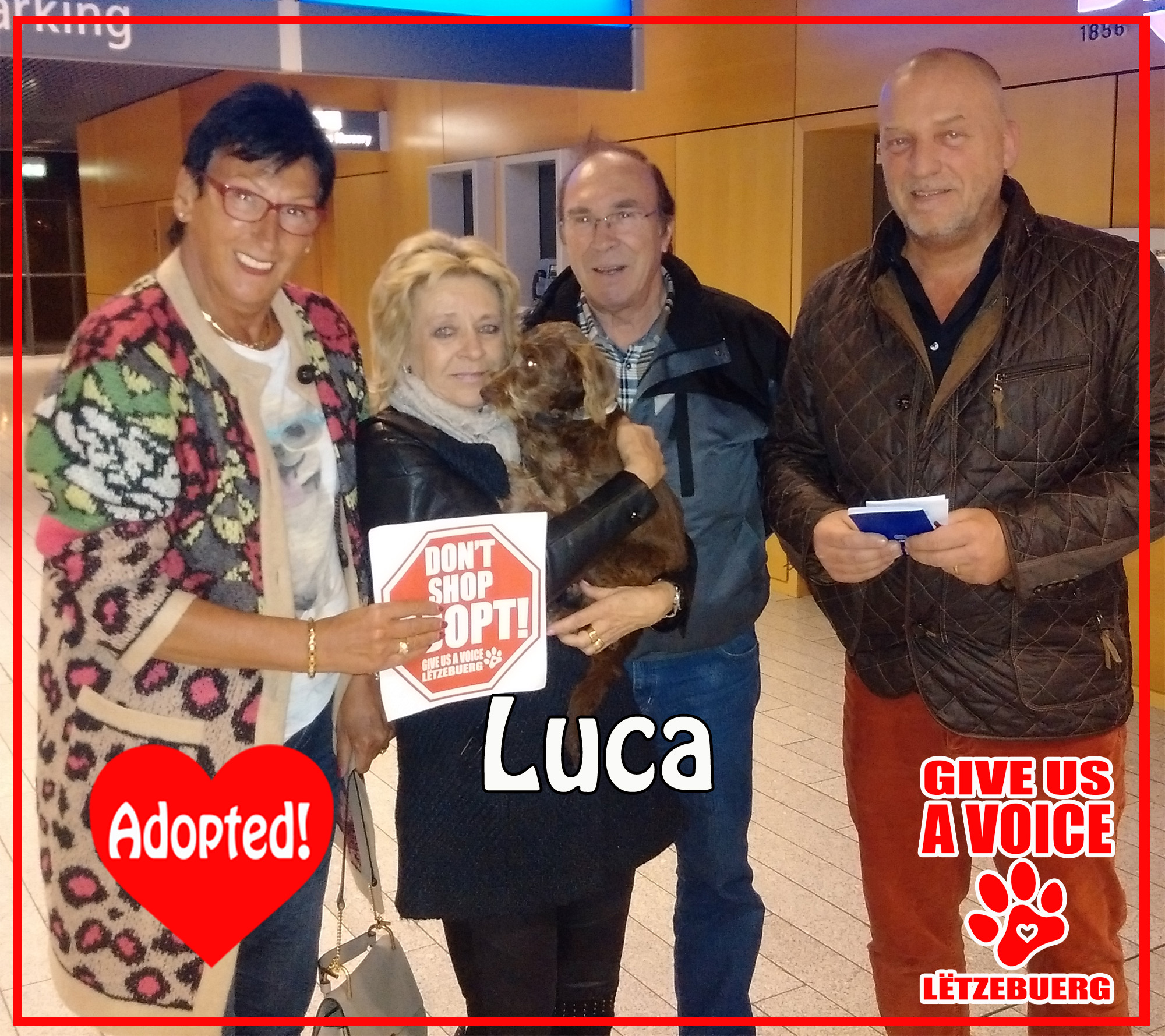 (Lëtzebuergesch – English – Deutsch – Français)
GIVE US A VOICE huet nees eng « Happy-ending » Geschicht ze deelen. Gëschter Owend ass d'Luca aus engem Déierenasyl aus Spuenien zu Lëtzebuerg ukomm fir säin néit Doheem kennen ze léieren esou wéi seng nei Mamm d'Madame Denise Mischenkoff. Schlussendlech eise grousse Merci un d'Madame Mischenkoff, déi dem Luca eng Chance op e glécklecht Liewe geschenkt hunn.
Eis grouss Unerkennung och un d'Madame Christiane Ewer, déi d'Luca aus Gran Canaria op Lëtzebuerg begleet hunn.
GIVE US A VOICE has another happy story to share. Last night, Luca, a puppy from a shelter in Spain, arrived in Luxembourg to meet his new family. Mme. Denise Mischenkoff is the proud new mom of this adorable boy. We are thrilled for Luca and wish him and Mme. Mischenkoff a lifetime of happiness!
We would also like to give a big thank you to Mme. Christiane Ewer for escorting Luca on his journey.
GIVE US A VOICE hat eine weitere glückliche Geschichte zu teilen. Letzte Nacht ist Luca, ein Welpe aus dem Tierheim in Spanien bei seiner neuen Familie in Luxemburg angekommen. Frau Denise Mischenkoff ist die stolze neue Mama dieses entzückenden Junge. Wir wünschen Luca und Frau Mischenkoff viel Glück und alles liebe!
Ein großes Dankeschön an Frau Christiane Ewer, Luca's Flugpatin!
GIVE US A VOICE a une nouvelle histoire avec un « happy-end » à partager. La nuit dernière, Luca, un chiot dans un refuge en Espagne, est arrivée à Luxembourg pour rencontrer sa nouvelle famille. Mme Denise Mischenkoff est la nouvelle maman fière de cette adorable garçon. Finalement, mille mercis à Madame Mischenkoff de donner une chance à Luca !
Remerciements aussi à Madame Christiane Ewer qui a assuré le transport de Gran Canaria à Luxembourg.
---