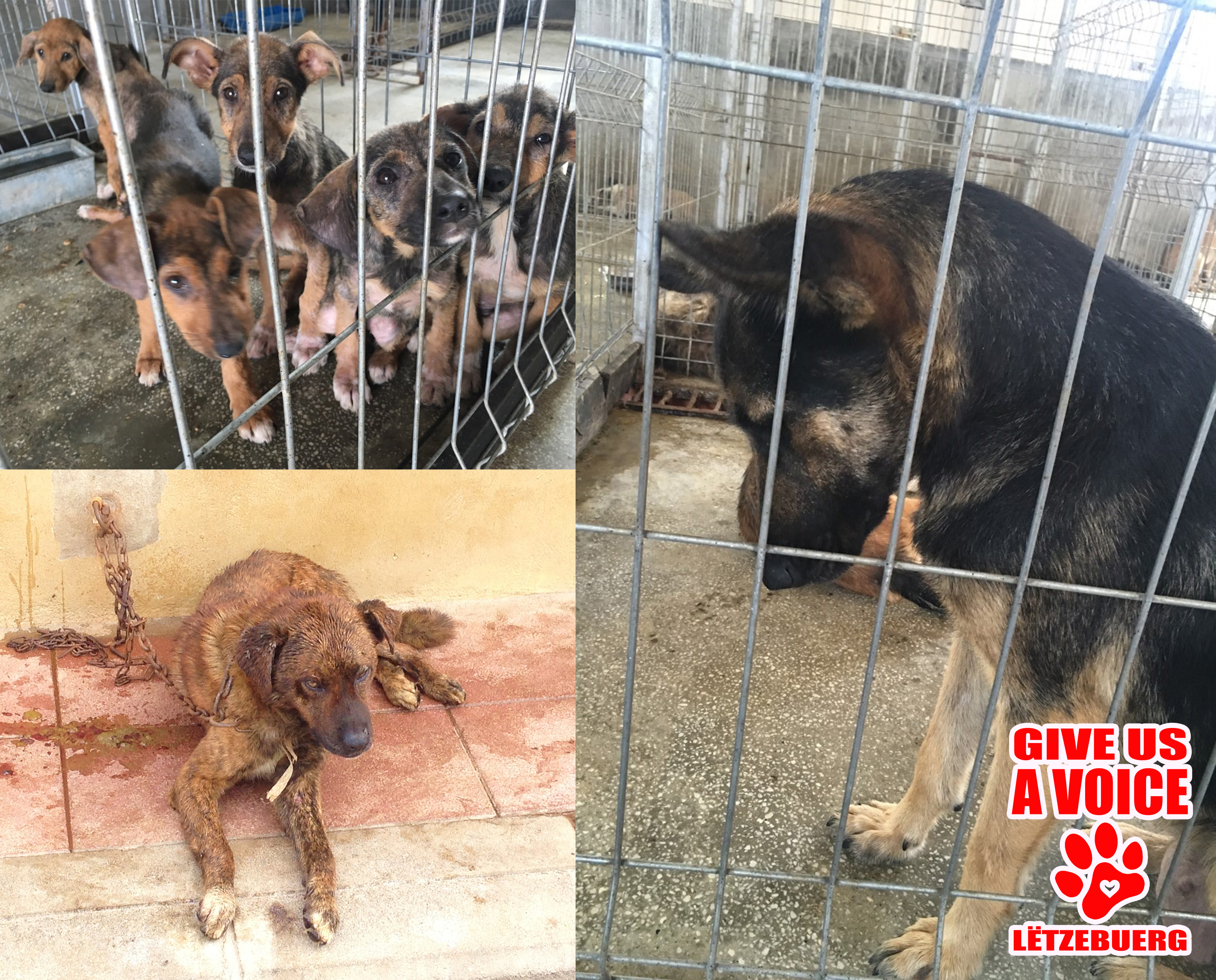 (Français – Deutsch – English)
 L'Europe et ses camps de morts en Roumanie, Espagne et Hongrie
Apathique, amaigri, hurlant, gémissant!  Ces quatre mots réflectent parfaitement l'état d'âme des pauvres créatures, condamnées à passer le restant de leur existence dans cet affreux pénitencier en attendant leur exécution! Avec ces camps, l'homme créa l'enfer sur terre pour ces pauvres animaux inoffensifs, innocents et sans défense! Plein de panique et de peur attroce, ils attendent le jour de leur exécution, sans lueur d'espoir d'être sauvés de leur calvaire.
Des chiens de chasse nobles tels que les Galgos et les Podencos ainsi que d' autres races , sont déposés dans ces camps où ils sont attachés à de courtes laisses tout au long de leur séjour! Après 21 jours, s'ils n'ont pas trouvé quelqu'un pour les adopter, ils sont exécutés, et le plus souvent d'une manière attroce (ils leurs mettent un sac sur la tête jusqu'à ce qu'ils étouffent!! ). Pour des mesures économiques, les pauvres bêtes ne reçoivent que très ratement de la nourriture, à tel point qu'il se métamorphosent en cannibals et mangent leur congénères, en commençant par les malades et les plus âgés!!
Le coeur de ces pauvres animaux est brisé, on leur a volé leur dernier sentiment d'honneur et on les a mutés en monstres qui s'entretuent pour avoir une minuscule chance de survivre! Ils sont rapidement conscients qu'ils sont enfermés dans une prison dont la seule issue est la mort, qu'ils ressentent finalement comme délivrance! Malheureusement, GIVE US A VOICE n'est pas en mesure de les libérer tous de leur calvaire! Nous en avons sauvé déjà un grand
nombre et nous leurs avons offert une seconde chance à laquelle ils ne croyaient plus!
Voilà pourquoi nous osons nous adresser à vous, cher(es) ami(es) d'animaux. Si vous voulez la compagnie d'un nouvel ami, adoptez-le selon la devise de GIVE US A VOICE: adopter-ne pas acheter!! Donnez une seconde chance à ces pauvres bêtes innocents! Vous n'allez certainement pas le regretter. Vous aurez la chance d'avoir un ami fidèle pendant de nombreuses années!
Au nom de tous les animaux en détresse: Merci!
Daniel FRERES
Ami protecteur des animaux
Président fondateur de GIVE US A VOICE
Europa und die Tötungsstationen
Apathisch, abgemagert, jaulend und winselnd. Diese 4 Wörter beschreiben die Situation der Kreaturen am besten, die verdammt sind in Perreras Tötungsstationen ihr restliches, erbärmliches und kurzes Leben abzusitzen.
Der Mensch hat mit Tötungsstationen in Rumänien, Spanien und Ungarn eine Hölle auf Erden für Tiere geschaffen.
Sie vegetieren voller Angst und Verzweiflung dahin ohne Aussicht auf Rettung oder Gnade.
Edle Jagdhunde wie Galgos oder Podencos, aber auch viele andere Rassen, die ihr Leben lang an einer Kette hingen und nichts Anderes gesehen haben als das was sich in dem Radius ihrer kurzen Fessel befand, werden kaltblütig in einer dieser Tötungsstation abgegeben.
Nach 21 Tagen ist ihre Lebensfrist abgelaufen, die Hunde werden getötet und dies oft auf brutale Art und Weise.
Plastiktüten über den Kopf, sodass sie ersticken ist nur eine von den unzähligen, grausamen Methoden die angewandt werden um die Tiere zu vernichten.
Um Kosten zu sparen wird auch häufig auf Wasser und Futter verzichtet.
In Ihrer Verzweiflung werden die armen Tiere zu Kannibalen und verspeisen sich gegenseitig.
Die Alten und Schwachen müssen zuerst dran glauben und werden regelrecht von ihren Artgenossen zerfleischt!
Die Seele dieser Tiere ist gebrochen, ihre letzte Würde wurde ihnen genommen, sie werden zu Monstern gemacht die mit einem letzten Funken Hoffnung um ihr Überleben kämpfen.
Tötungsstationen sind Gefängnisse für Lebewesen die kein Verbrechen begangen haben, vorausgesetzt man wertet das Leben an sich,  als ein solches.
In diesem Gefängnis ist jeder Insasse zum Tode verurteilt, es gibt nur den Todestrakt, der Tod ist allgegenwärtig und legt seinen dunklen Schleier über die ganze Anlage. Er kommt schleichend langsam, und doch so schnell, 21 Tage Angst, 21 Tage Verzweiflung, 21 Tage Leid,…dann am 21. Tag die Erlösung…
Leider können wir von GIVE US A VOICE Letzebuerg nicht alle Vierbeiner retten, aber die, die wir schon rausgeholt haben, erhielten eine zweite Chance, die sie dankend annahmen.
Man kann die Lebensfreude wieder in ihren Augen erkennen, sie haben ihr Vertrauen in den Menschen zurückgewonnen, obwohl genau dieser für ihr Leid verantwortlich war.
Vergebung ist eine Tugend die diese Hunde zu dem machen was sie sind: Lebewesen mit Gefühlen, die ein Recht auf Freiheit, Zuneigung und Respekt haben.
Also bitte unterstützen Sie uns indem Sie einen Hund ADOPTIEREN, bei uns wird kein Hund gekauft, sondern adoptiert so lautet auch unser Motto,
DON'T SHOP, ADOPT.
Schenken Sie diesen Tieren ein neues Zuhause und nehmen Sie es als vollwertiges Familienmitglied bei sich auf.
Das Tier wird ihnen für den Rest seines Lebens dankbar sein, es wird Ihnen zur Seite stehen und ihnen ein treuer Freund sein.
Jede HILFE zählt.
In diesem Sinne:
Daniel FRERES, ein großer Tierfreund und Mitbegründer von GIVE US A VOICE LETZEBUERG
Europe and the kill shelters of Romania, Spain and Hungary
Listless, emaciated, howling and whimpering. These four words perfectly describe the state of the poor creatures condemned to spend the rest of their lives in kill shelters, just waiting for death.
Humans created with these kill shelters in Rumania, Hungary and Spain, a hell on earth for animals.  Full of panic and fear, they wait . . . defeated and without glimmer of hope in their eyes.
Hunting dogs like the noble Galgos and Podencos, as well as many other breeds, are tied to short chains and never seen anything beyond the radius of their bonds.
After 21 days, if they have not been one of the lucky few to be adopted, the poor animals are killed, many times in a brutal and cruel manner.  One of the many methods used to kill is to put a plastic bag put over the head to suffocate them.
To save money, dogs are often kept without any food or water. In their desperation, some of the animals become cannibals and start preying on each other. The very young, aged and weak are most likely the first to go. The heart and soul of these dogs are broken, their last sense of honor was robbed and they are forced to turn into monsters and fight to survive.
They quickly realize they are locked in a prison whose only outcome is death.  Unfortunately, GIVE US A VOICE is not able to release all these poor souls from their ordeal. We have saved already large number and we have offered a second chance when these poor souls have already given up on themselves.
This is where you come in. We are pleading to all our dear animal friends: if you want the joy and companionship an animal can bring into your life, please adopt. Our motto is: Don't shop, adopt! Give a second chance to an innocent animal that is castaway and forgotten in one of Europe's many kill shelters. Trust us, you will not regret it and you will have unconditional love of a faithful friend for many, many years.
Thank you,
Daniel FRERES
GIVE US A VOICE
Volunteer Animal Protector
Founding President of GIVE US A VOICE
*all of the dogs pictured died in the shelter
---