If 1 is good, 2 is better! Belle and Chanel find their forever home, together!
(English – Deutsch – Français)
Chanel's new family decided they had extra love to give and came back to adopt her sister Belle! We are thrilled for these two puppies and their incredible change of fortune. They were found as day old puppies in a box in Romania and now they are living the good life in a loving home in Luxembourg. GIVE US A VOICE would like to give another big THANK YOU to the Rota family!!!
Chanel's neue Familie hat entschieden, dass sie einen Überschuss an Liebe zu vergeben haben und sich deshalb Belle, die Schwester von Chanel, ebenfalls zu adoptieren. Wir sind überglücklich für diese lieben Welpen, welche durch die Hölle gegangen sind. In der Tat fand man sie in den Strassen Rumäniens in einem kleinen Karton als sie einen Tag alt waren! Jetzt haben sie ein wundervolles Zuhause gefunden in Luxemburg bei Familie ROTA. Familie ROTA gebührt unseren grössten Respekt und unendlichen Dank!
La nouvelle famille de Chanel a réalisé qu'elle avait un surplus d'amour à donner et ils sont revenus pour adopter sa soeur Belle! Nous sommes ravis pour ces deux chiots qui ont traversé l'enfer. En effet, âgés de 1 jour, ils ont été trouvés dans un carton dans les rues de la Roumanie pour finir leur périple au Grand-Duché chez une merveilleuse famille qui leur donne l'amour et l'affection qu'ils méritent. Les responsables de GIVE US A VOICE tiennent à remercier vivement la famille ROTA de leur geste généreux!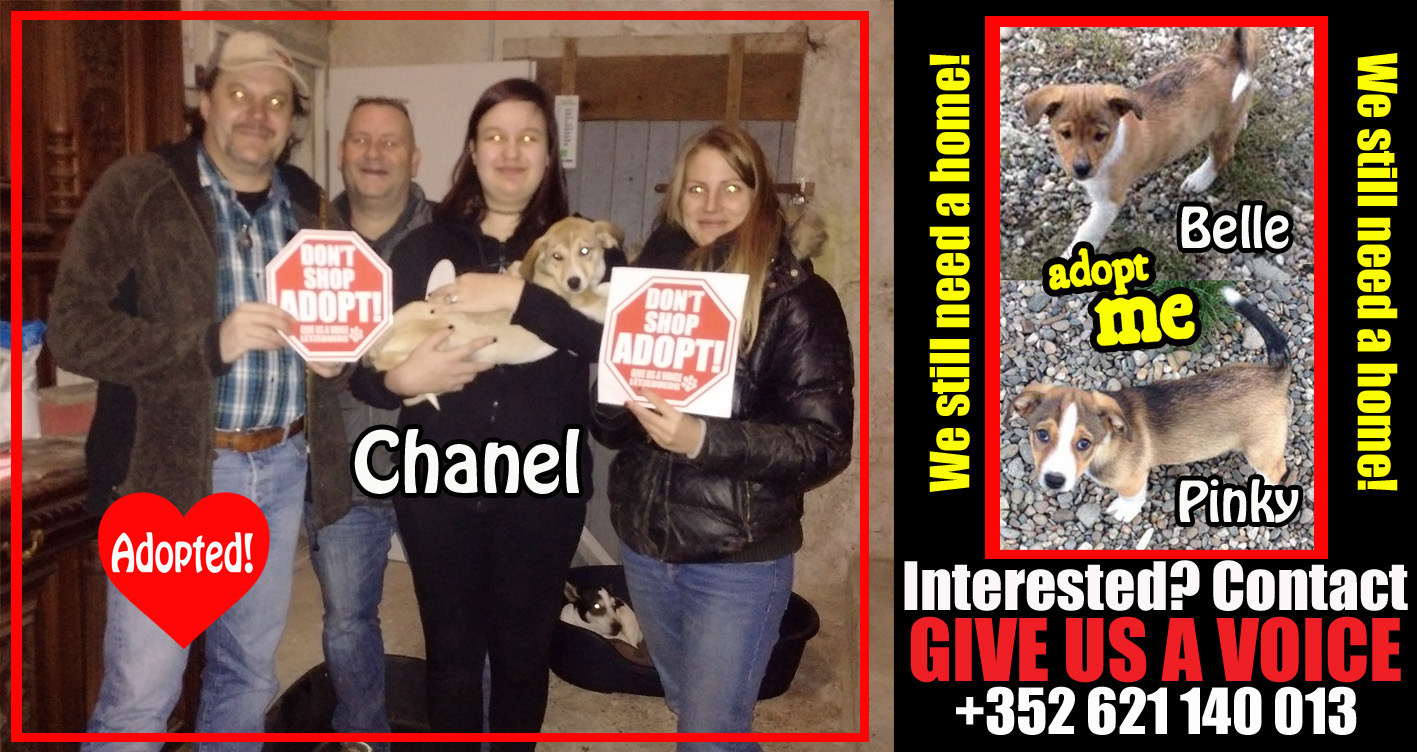 ---