GIVE US A VOICE goes to school!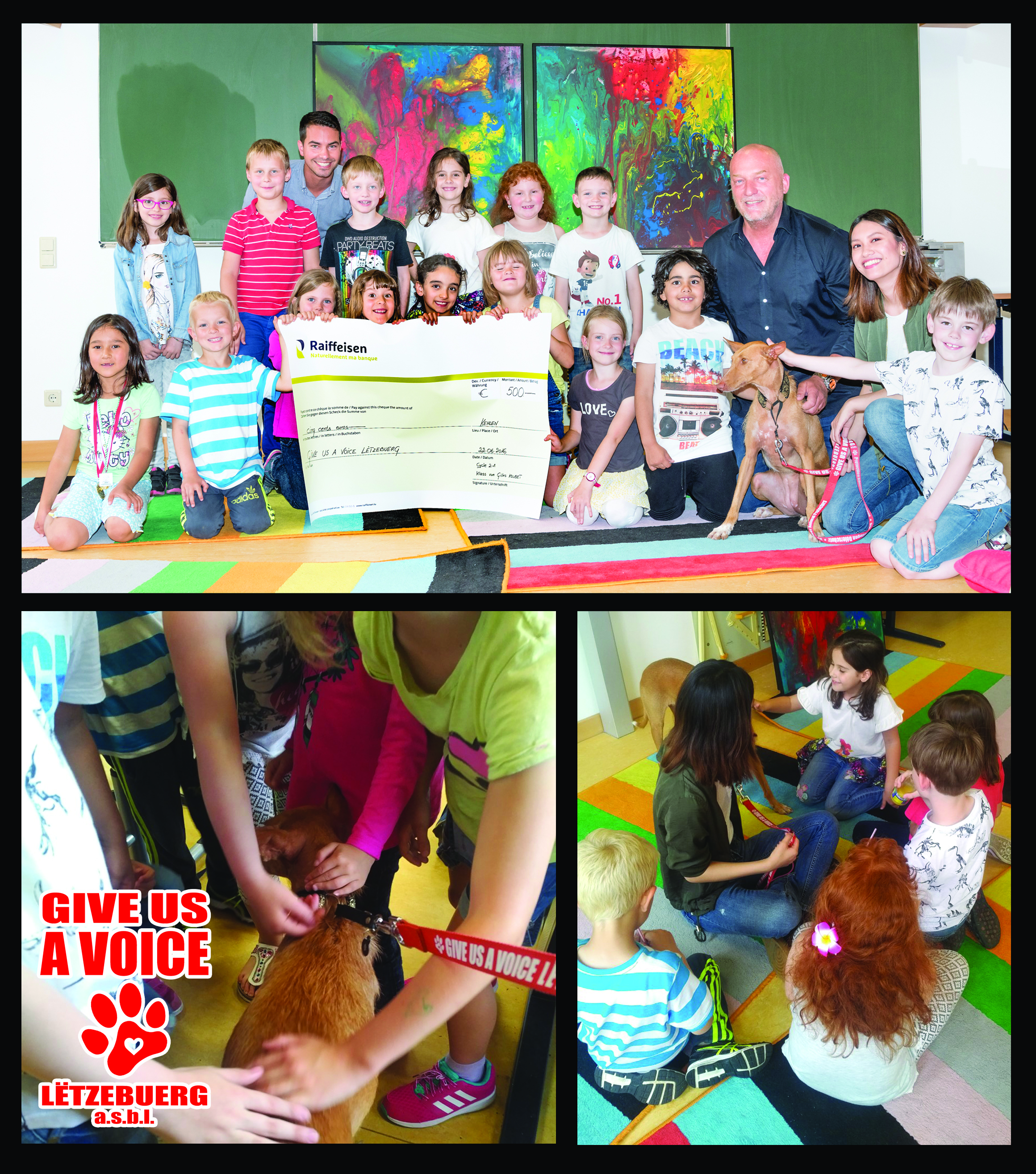 (English – Lëtzebuergesch –Français)
Today GIVE US A VOICE was invited to Mr. Kolbet's cycle 2.1 class in Kehlen to give a presentation to pupils about what we do and what they can do to prevent animal abuse. Interested pupils in the class of Mr. Gilles Kolbet took part in this little impromptu meeting and had a chance to talk and ask questions to the president of our association. The purpose of our presentation was to sensitize pupils and teach them to detect and react against violence towards animals.
We wish to express our gratitude to Mr. Kolbet for his commitment in the interest of our animal friends. We are very flattered and honored to have been invited to speak in your class! We would also like to THANK YOU for your generous donation!
De Respekt vis-à-vis vun den Déiere fänkt bei der Erzéihung vun eisen Kanner un!
Haut de Mëtteg waren déi Verantwortlech vu GIVE US A VOICE an d'Classe vum Här Kolbet (Cycle 2.1) invitéiert, fir iwwer den aktuelle Mëssstand an Quälerei vun Déieren e Viirtrag ze halen. Em déi 20 Schülerinnen a Schüler hun un deem Virtrag deelgeholl a ganz animéiert matt discutéiert! De But vun eiser Präsentatioun ass et, déi Jugendlech opmierksam op Déirequälerei ze maachen, a viirun allem, wei een handele soll am Fall wou een Zeien vun esou enger Mësshandlung gëtt.
E groussen opriichtege Merci un den Här Gilles Kolbet fir säin Engagement am Sënn vun eise Frënn, den Déieren. Mir vu GIVE US A VOICE sinn houfreg esou een aussergewéinlechen Déierefrënd an eisem Team ze hun!
An e Grousse Merci fir Är Ënnerstëtzung an Donnatioun!
Le respect vis-à-vis des animaux s'apprend déjà pendant l'adolescence!
Les responsables de GIVE US A VOICE se sont rendus dans la classe de Monsieur Gilles Kolbert (Cycle 2.1) à Kehlen, afin d'informer les écolières et les écoliers sur les abus de violence et la cruauté envers les animaux. Les élèves intéressés ont participé à cette petite conférence improvisée et ont discuté vivement avec les responsables de notre association. Le but de notre présentation était de sensibiliser les élèves à réagir correctement en cas de détection d'un cas de violence envers un animal.
Nous tenons à adresser un vibrant Merci à Mr. Gilles Kolbet pour son engagement sans relâche dans l'intérêt de nos amis les animaux. Nous sommes très flattés et honorés de vous avoir dans notre équipe.
Et un très grand Merci pour votre fantastique donnation !
Il nous est fort agréable de voir en vous des partenaires privilégiés dans notre lutte contre les excès de violence envers les animaux de ce monde !
---