Gazolio – Another Life Saved!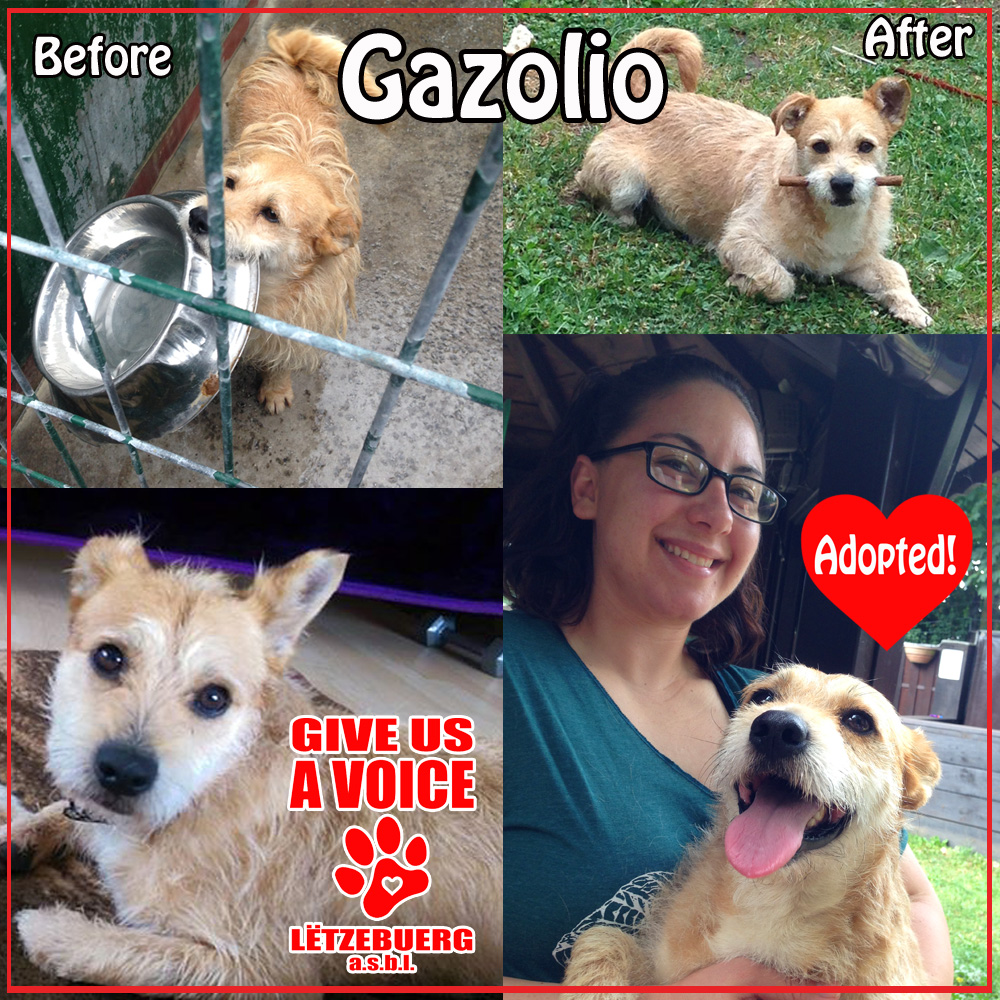 Another life saved! GIVE US A VOICE is happy to announce that Gazolio found his forever home. Gazolio, who was waiting for death at a kill-shelter in Portugal, got a second shot at happiness and we couldn't be more happy for him!
We would like to give a big THANK YOU to Mme. Lucia Kleber of Vamos la Madeira and Mme. Graça Rosa of Le Petz Hotel das Mascotes who did everything to make it possible for Gazolio to travel from Portugal to Luxembourg. We could not have done this without all of your help!
We sincerely appreciate Mr. & Mme. Welter for escorting Gazolio on the plane ride to his new home.
Lastly, GIVE US A VOICE would like to give a heartfelt THANK YOU to Mme. Bren Hogge who decided to give a shelter dog a second chance at life. We know he is in great hands and is going to have a wonderful life with you.
GIVE US A VOICE Luxembourg a.s.b.l. rettet GAZOLIO vor einem sicheren Tod!
Wieder haben die Verantwortlichen von GIVE US A VOICE einen Hund vor einem sicheren Tod gerettet.
Wir sind deshalb sehr froh Ihnen mitzuteilen dass GAZOLIO ein neues Zuhause in Luxemburg gefunden hat. Der leidgeplagte Hund wartete in einem Tierasyl auf seinen sicheren Tod!
Wir bestehen darauf Frau KLEBER aus VAMOS LA MADEIRA sowie Frau GRACA ROSA vom LE PETZ HOTEL DES MASCOTES unseren aufrichtigen Dank auszusprechen, weil Sie Ihr Unmögliches unternommen haben um GAZOLIO den Flug nach Luxemburg zu ermöglichen. Ohne Ihre selbstlose, spontane Hilfe wäre es uns unmöglich gewesen dem armen Tier zu helfen und GAZOLIO würde wohl heute nicht mehr am Leben sein!
Ein großes Dankeschön an Mme und Mr Welter, Gazolio's Flugpaten.
GIVE US A VOICE bedankt sich aber auch recht herzlich bei Frau BREN HOGGE, die sofort einverstanden war einen Hund aus einem Tierasyl aus dem Ausland bei sich aufzunehmen und ihm eine 2. Chance zu schenken! Da uns Frau HOGGE bestens bekannt ist, sind wir überzeugt das GAZILIO ein wunderschönes Leben in Geborgenheit und Sicherheit bei seiner neuen Besitzerin genießen wird.
GAZOLIO sauvé d'une mort certaine!
Encore une vie sauvée par GIVE US A VOICE ! Nous sommes heureux de vous annoncer que Gazolio a trouvé un nouveau foyer pour y passer le reste de ses jours. Gazolio attendait sa mort certaine dans un abri d'euthanasie au Portugal !
Nous tenons à remercier vivement Madame KLEBER de VAMOS LA MADEIRA ainsi que Madame GRACA ROSA de LE PETZ HOTEL DES MASCOTES qui ont fait l'impossible pour permettre à GAZOLIO le transfert du Portugal au Luxembourg. Sans leur aide précieuse, nous n'aurions pas pu aider ce pauvre chien.
Remerciements aussi à Mme et Mr Welter qui a assuré le transport de Portugal à Luxembourg.
GIVE US A VOICE tient aussi à remercier de tout cœur Madame BREN HOGGE qui a spontanément décidé de donner une seconde chance à un chien d'abri. Connaissant Madame HOGGE, nous sommes persuadés que GAZOLIO sera en de bonnes mains et pourra se réjouir d'un futur plein de joie et d'affection.
---