Donation of Medicine made to shelter in Spain thanks to our members!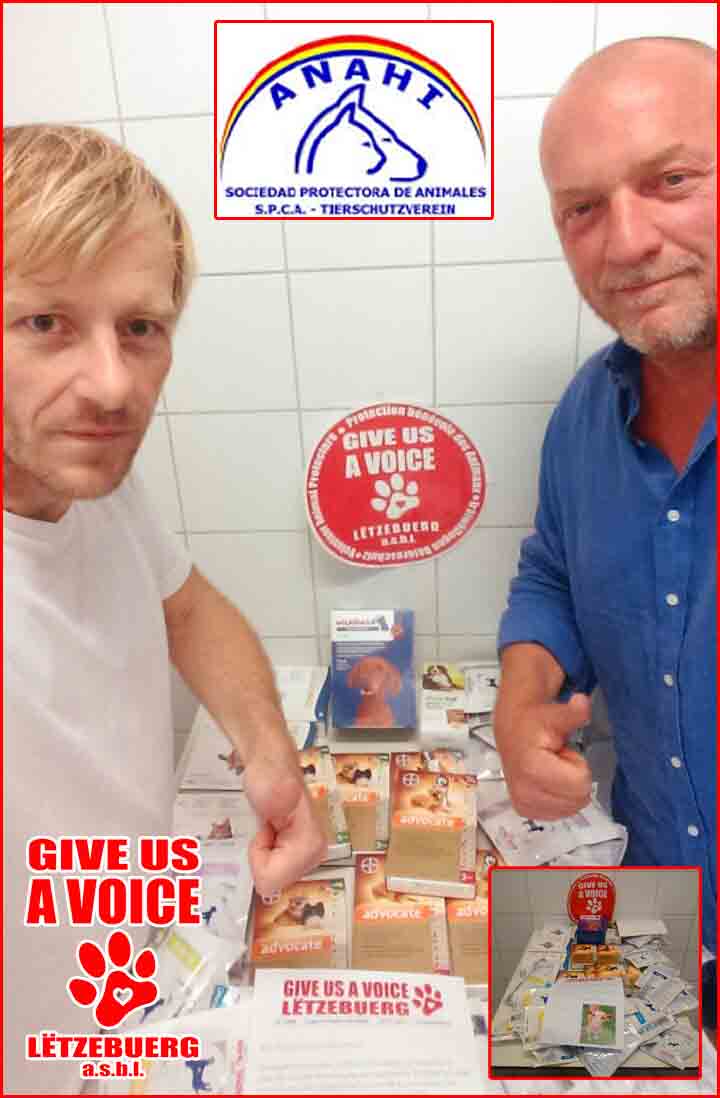 (English – Deutsch – Français)
With the help of our members, GIVE US A VOICE was able to send much needed medicine and supplies to Anahi Sociedad Protectora de Animales.
Anahi recently took over the day to day management of the Mogán city kennels in Gran Canaria, Spain. They want to prove that it is possible to operate a municipal kennel without having to kill any animals. We are so thankful there are wonderful people like the folks at Anahi who really care about the animals and are making a difference.
If you would like to learn more about Anahi or if you would like to adopt a dog from their shelter, please see http://www.anahi-dog-finca.org
Dank der wertvollen Hilfe unserer Mitglieder ist es GIVE US A VOICE gelungen Medikamente sowie verschiedene Hilfsmittel an Anahi Sociedad Protectore de Animales
Anahi zu senden, welche ohne diese dringend notwendige Hilfe sehr schlecht über die Runden kommen und somit den armen Tieren in Gran Canaria die Hilfe, die sie unbedingt benötigen, unmöglich geben könnten. Anahi hat kürzlich die Betriebsleitung einer Tierauffangstation der Stadt Morgan in Gran Canaria übernommen, um den Verantwortlichen dieser Station zu beweisen, dass man solch einen Betrieb auch führen kann ohne ein Tier zu töten!
Wir sind glücklich und erleichtert dass es Tierliebhaber wie die von Anahi gibt welche sich mit Hingabe den Tieren widmen und diesen eine 2. Chance gewähren.
Wenn Sie mehr über Anahi erfahren wollen oder eventuell die Absicht haben einen Hund aus deren Station zu adoptieren, dann schauen Sie sich bitte die Internetseite von Anahi an: http://www.anahi-dog-finca.org
Grace à l'aide précieuse de nos membres, GIVE US A VOICE a eu les moyens nécessaires pour envoyer des médicaments ainsi que des fournitures diverses indispensables au bon fonctionnement et au bien-être des animaux à Anahi Sociedad Protectore de Animales.
Anahi a récemment repris la gestion de l'établissement d'accueil de chiens de la Ville de Morgan à Gran Canaria.
Ils veulent donner la preuve qu'il est parfaitement possible de gérer une station d'accueil pour chiens sans en tuer aucun!
Nous sommes tellement contents qu'il y a des gens comme ceux d'Anahi qui s'occupent réellement des animaux et font comprendre à leur prédécesseurs comment s'y prendre pour sauver des vies de chiens et leur donner une seconde chance !
Si vous voulez en savoir plus sur Anahi ou si vous avez l'intention d'adopter un chien de leur chenil, rendez-vous s.v.pl. sur le site internet : http://www.anahi-dog-finca.org
---