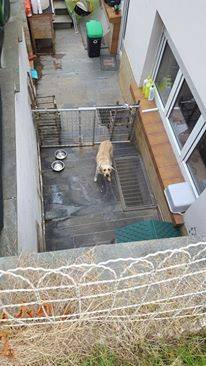 Dëst gesin zu Niederkuer,
een Hond deen op engstem Raum 24/24hrs säit 14 Deeg alleng dobausse sëtzt, bei extrem warm Temperatueren, ewéi och am Reen.
Eemol am Daag kennt eng Persoun dem Hond ee bessen Fudder brengen, den Hond huet awer kee Auslaaf.
D'Besëzter vum Hond sinn zënter 3 Wochen an der Vakanz.
GIVE US A VOICE bekemmert sech drems, Police ass informéiert.
Today GIVE US A VOICE went to check on a dog in Niederkuer. The dog sits outside in this small, concrete enclosure 24/7, in extreme temperatures and in the rain. This dog has been here already for 14 days while it's owners are on vacation for 3 weeks. Once a day, someone comes to give it a little food and water but does not take him for walks.
GIVE US A VOICE is taking care and the police have been informed.
---