Animal neglect in the North!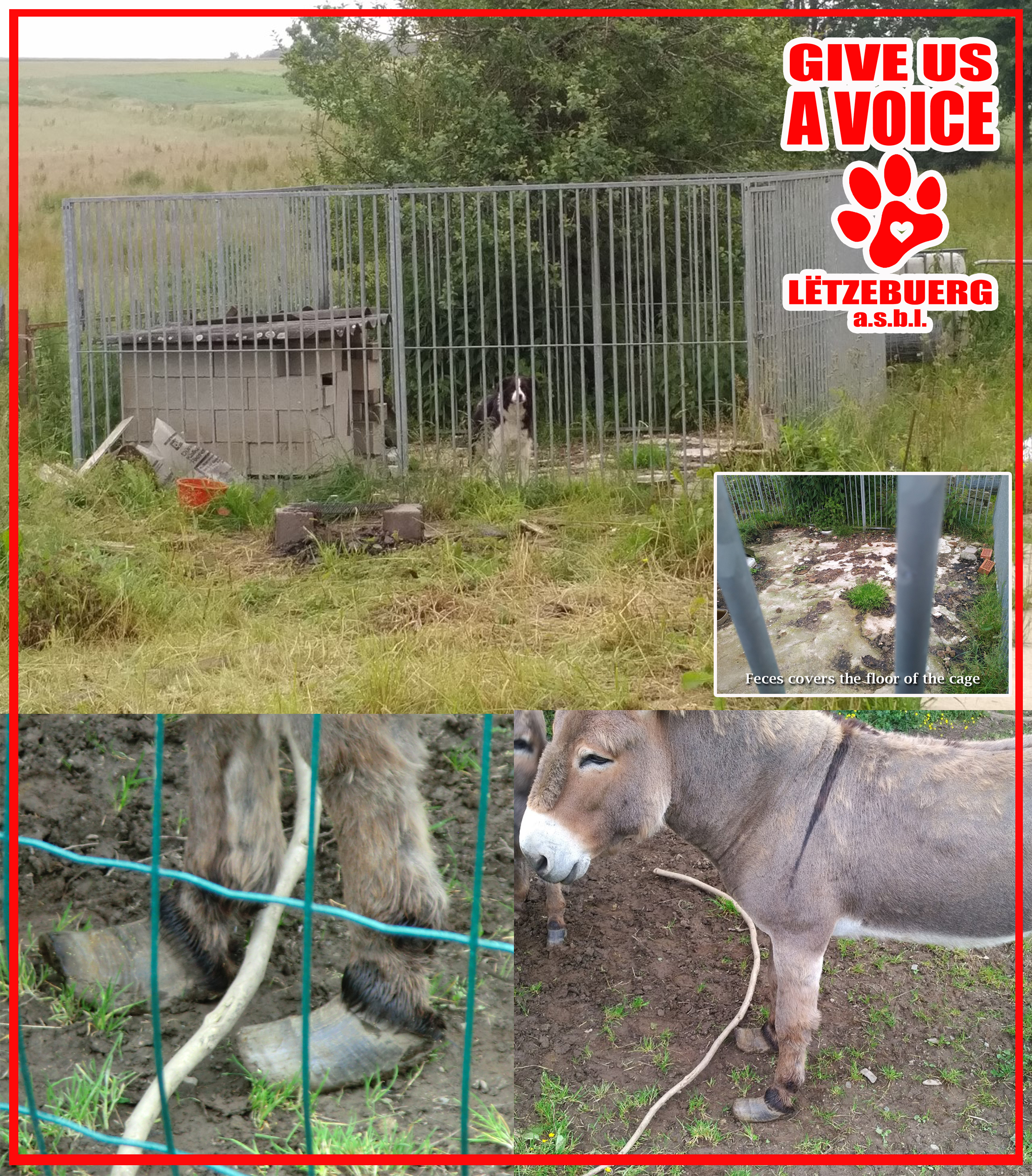 (Lëtzebuergesch –Français – English)
Gëschter Mëtteg waren déi Responsabel vu GIVE US A VOICE am Norden vum Land wou dës traureg Biller entstane sinn.
En Hond, komplett verfilzt, sëtzend an engem Käfeg voller Exkrementer, ouni Waasser, ouni Fudder, an engem miserabelen Zoustand. Ausserdem stinn 2 Ieselen ( Mamm an hiert Klengt) total vernoléissegt op enger Wiss. Och déi 2 sinn an engem fierchterlechen Zoustand.
De Propriétaire huet ons gesot hie géif "Halal" (Reng Fleesch, no islameschem Recht gehale Véi) bedreiwen an dëst op sengem eegenen Terrain. Mir hunn d'Police op d'Plaz geruff, déi alles wäert kontrolleieren an opklären ob dat no de Regelen a Gestzer vun eisem Land konform ass! Grousse Merci un d'Police vu Rédange
P.S. Halal ass zu Lëtzebuerg verbueden !!!
Les responsables de GIVE US A VOICE se sont rendus dans le nord du Pays et ont pris en photographie ces tristes constatations incroyables !
Un pauvre chien, totalement emmêlé, emprisonné dans une cage pleine d'excréments, sans eau, sans nourriture, dans un état pitoyable ! En outre, ils ont découvert une ânesse avec son enfant, totalement négligés et également dans un état affreux, sur un pré.
Le propriétaire nous informa qu'il tenait les bêtes selon la coutume islamique le halal , et qu'il avait pleinement le droit de la faire, étant donné que les bêtes se trouvent sur son terrain ! Nous avons de suite interpellés les policiers du Commissariat de Rédange qui feront une enquête si la façon indigne de traiter les animaux est permise au Grand-Duché.
Un grand Merci aux agents du Commissariat de Rédange.
Yesterday afternoon, GIVE US A VOICE was notified of animals in a sad state in the north of the country. Indeed, we were met with these sad images. A dog, fur completely matted and unkempt, was locked in a cage full of feces without food or water and in a very poor state. In addition, there were donkeys, also in a terrible state. The owner informed us that he butchered his own cows in accordance with the Islamic law of Halal. We had the police on the scene to monitor and explain the laws of Luxembourg to the owner of these animals. We would like to give a great big thanks to the police of Rédange.
---