And this little piggy went wee wee wee all the way to her NEW home!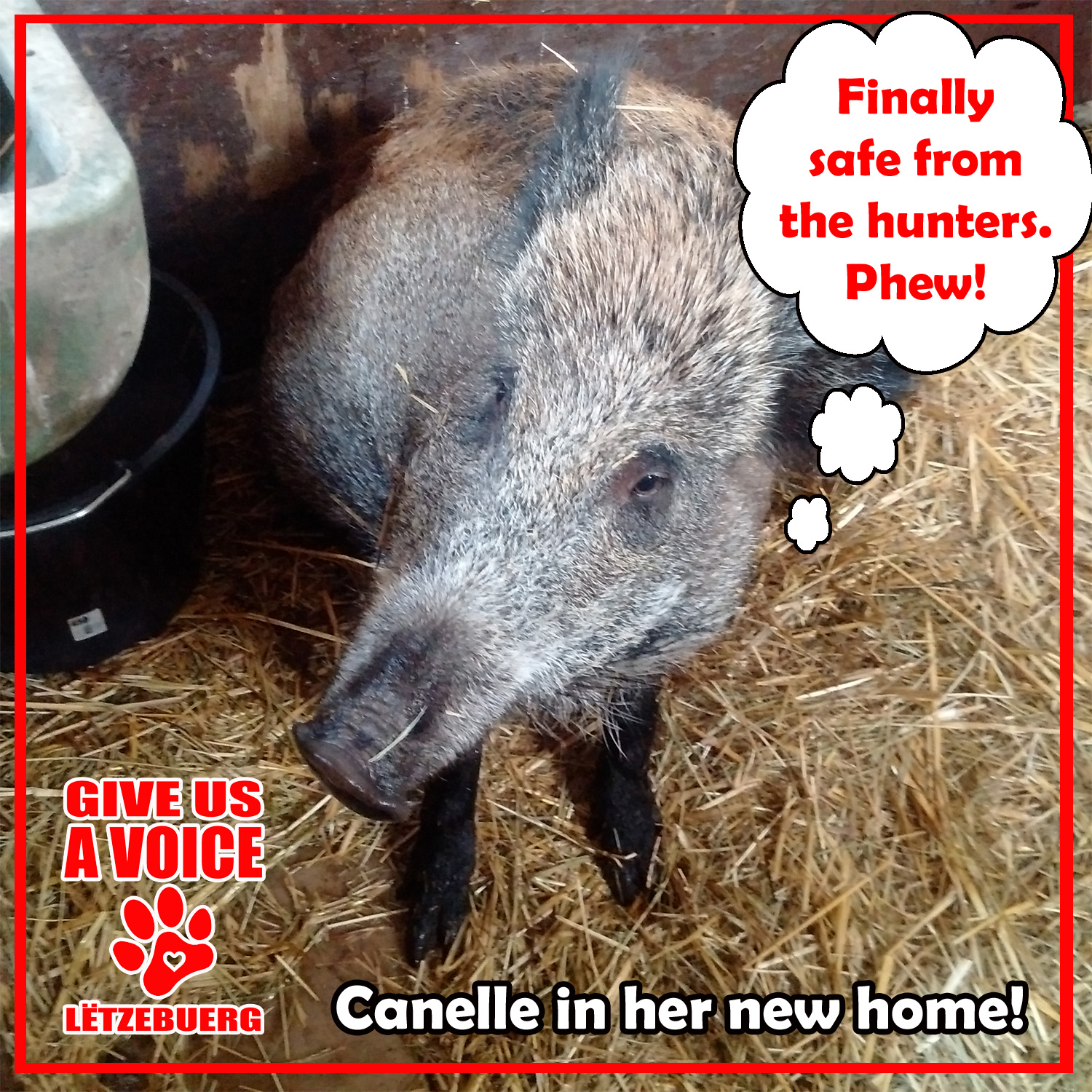 (Français – Deutsch – English)
Grace à notre prompte intervention, Cannelle, le merveilleux petit sanglier, ne sera pas la proie de chasseurs à la gachette facile!!
Cannelle, un porc sauvage qui a été trouvé dans une forêt après que sa maman fut abattue sauvagement par des chasseurs. La famille qui l'a trouvée l'a adoptée sur le champ et l'éleva. Elle se trouva au sein d'une famille aimable ensemble avec des enfants et leurs chiens.
Malheureusement, Cannelle se développa rapidement à tel point qu'elle a dû être transférée vers un refuge pour animaux.
Grâce à l'intervention des responsables de GIVE US A VOICE, Cannelle a la chance inouïe de pouvoir vivre paisiblement à la ferme sans avoir éternellement peur d'être abattue par des chasseurs.
Cannelle, das liebenswerte Wildschwein von dem wir kürzlich berichtet haben, ist den schiesswütigen Jägern durch unseren Einsatz entwichen!
Cannelle, ein liebevolles, zahmes Wildschwein, dessen Mutter von Jägern getötet und von einer Familie, die es zufällig im Wald gefunden hatten, aufgenommen und grossgezogen wurde. Leider wuchs Cannelle zu sehens, so dass die Familie sich leider gezwungen sah das arme Schwein in besagte Auffangstation abzugeben. Jetzt kann Cannelle bis zu seinem natürlichen Ableben in Frieden leben in und vielen anderen Tieren und läuft nie die Gefahr, genau wie seine Mutter, von Jägern oder Wilderern erschossen zu werden!
Cannelle is a wild pig that was found after her mother was shot. A family found her and raised this little pig in a loving home along with their kids and dogs. Unfortunately she grew too big and the pig had to be taken to an animal shelter. Now Cannelle has found her forever home on a farm where she can live happy and free from the fear of being hunted.
---