A Stroke of Good Fortune for Whiskey and Sammy!
Whiskey and Sammy, two neglected ponies from Belgium, were on their way to be sold to a circus when GIVE US A VOICE stepped in and got them away at the last minute. We happy to announce that the ponies have arrived safely in Luxembourg and have found a forever home.
GIVE US A VOICE would like to give a big THANK YOU to the Majerus family for giving these two ponies a better life. We are thrilled that Whiskey and Sammy have found their happily ever after!
Whiskey und Sammy, 2 vernachlässigte Ponys aus Belgien, waren drauf und dran an einen Zirkus verkauft zu werden als Give Us a Voice sich in letzter Minute eingeschaltet hat und die beiden armen Tiere vor einem unwürdigen Leben buchstäblich in letzter Minute gerettet hat.
Es ist uns deshalb eine grosse Freude und Genugtuung Ihnen mitzuteilen dass die beiden Ponys in Luxemburg angekommen sind und prompt ein definitives Zuhause gefunden haben.
Es ist den Verantwortlichen von Give Us a Voice ein Bedürfnis der Familie Majerus ein herzliches Dankeschön auszusprechen dass Sie sich den beiden Ponys amgenommen haben um ihnen ein würdevolles Leben zu ermöglichen!
Wir freuen uns wahnsinnig dass Whiskey und Sammy ein Happyend erleben und einer wohlbehüteten Zukunft entgegen sehen dürfen!
Whiskey et Sammy, deux poneys délaissés furent sur le point d'être vendus par leur propriétaire belge à un cirque, lorsque, littéralement en dernière minute, les responsables de Give Us a Voice se sont immiscés et ont sauvé ces deux animaux d'un futur déplorable!
Voilà pourquoi nous sommes ravis de vous informer que les deux poneys sont arrivés dans leur ouvelle demeure au Grand-Duché.
Nous nous empressons de remercier vivement la famille Majerus de donner une seconde chance à ces pauvres bêtes et de leur permettre par la même occasion de vivre paisiblement chez une famille qui les soignent bien et leur donnent toute l'affection dont ils ont besoin!
Nous éprouvons une intense joie que Whiskey et Sammy ont eu la chance d'avoir une gentille famille qui prend soin d'eux pour le restant de leur jours!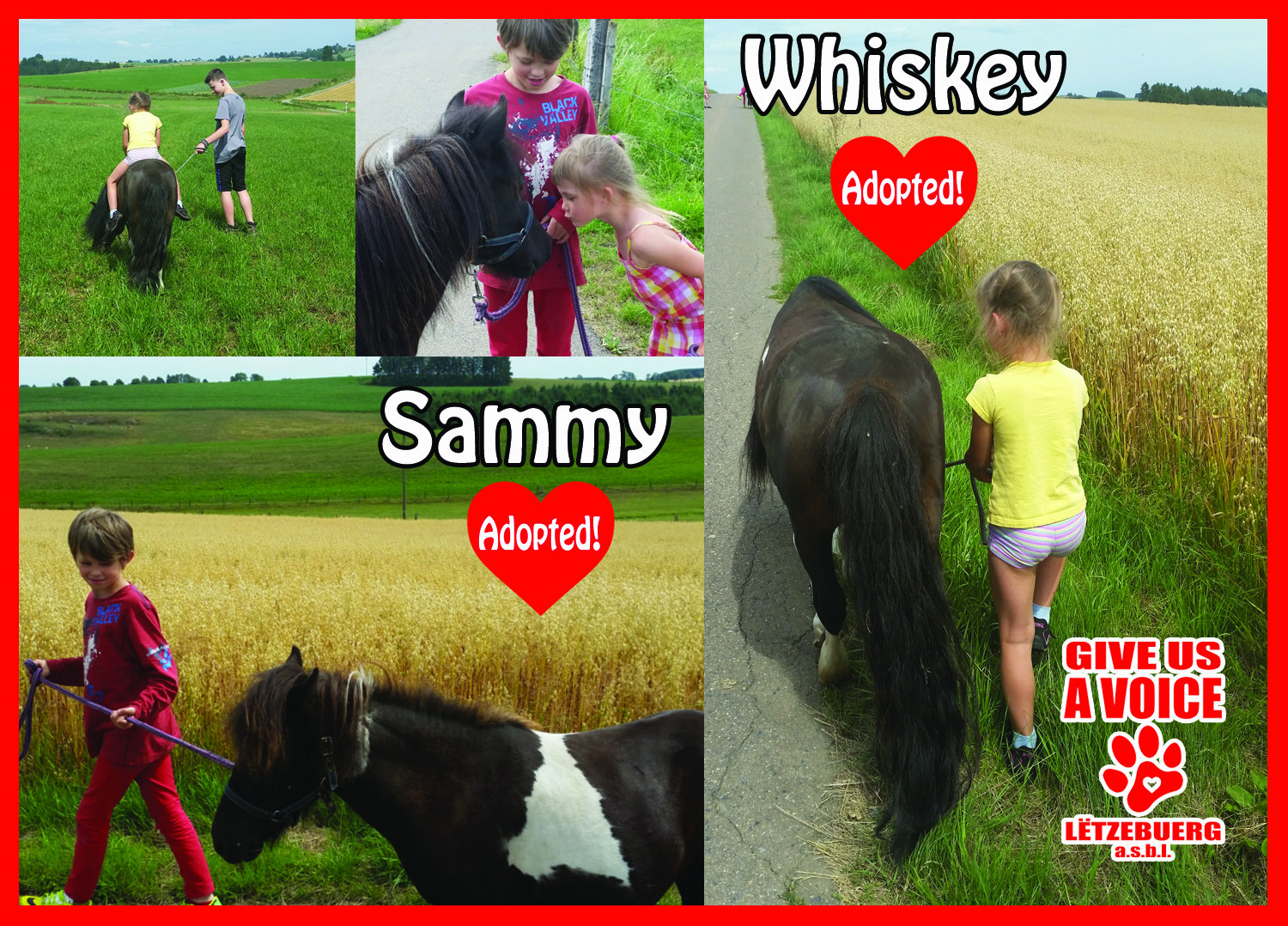 ---