4 Animals makes BIG donation to GIVE US A VOICE!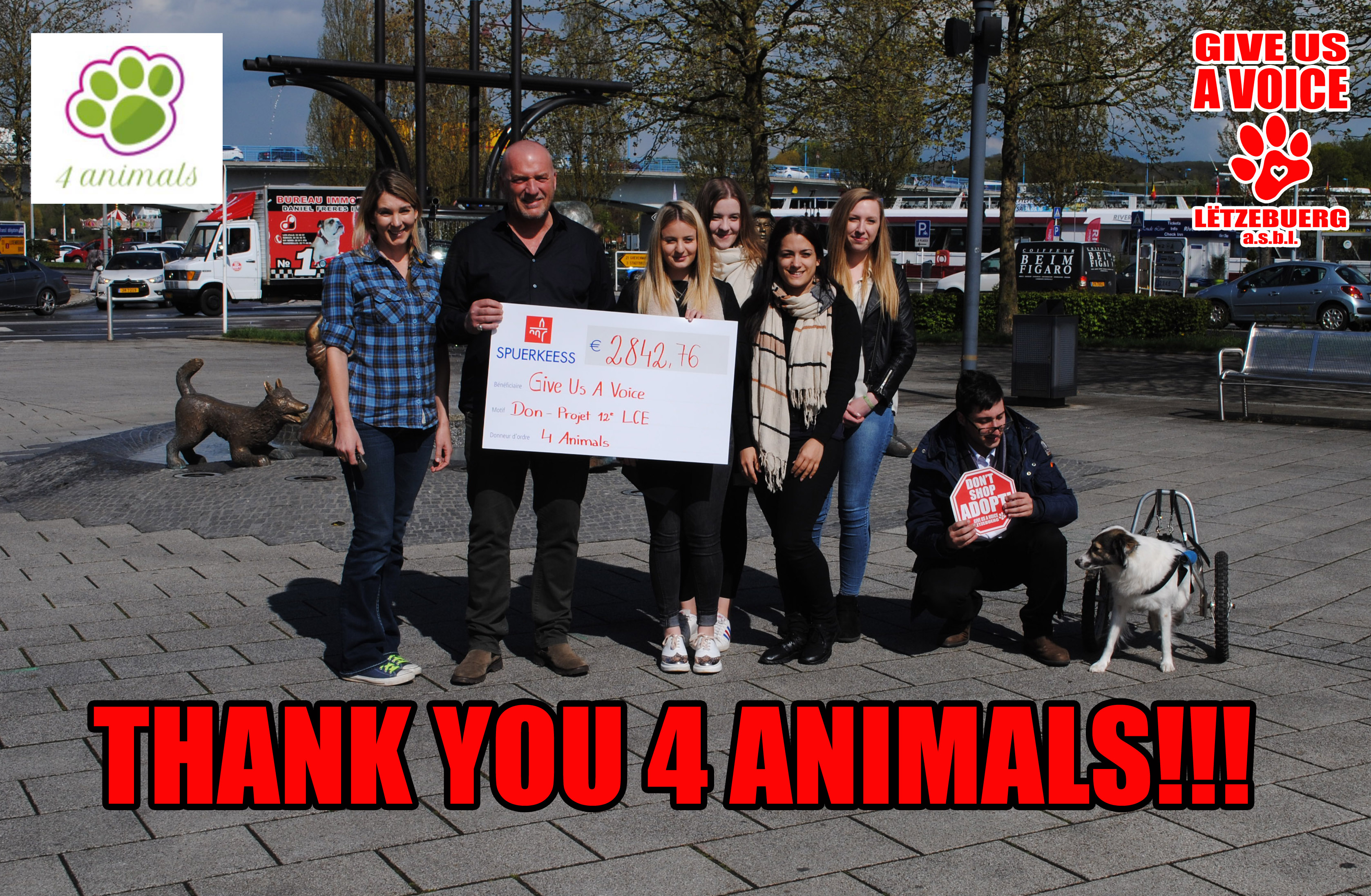 (Lëtzebuergesch – Français – English)
4 jonk Studentinnen mat engem groussen Häerz fir Déieren a Nout!
Chiara DENNEWALD, Daniella ROQUE, Vanessa MAES a Liz WEIS, 4 Studentinnen aus dem Iechternacher Lycée, hunn , am Kader vun engem Schoulprojet mat Titel " 4 Animals ", Geld gesammelt fir Déieren a Nout.
De Projet huet als Philosophie op all déi Déieren opmierkasam ze maachen, déi Dag fir Dag mësshandelt ginn oder vun Honger qualvoll stierwe mussen.
Während de leschte Méint hunn d'Schülerinnen dee gréissten Deel vun hirer Fräizäit geopfert fir dass hire Projet deen Erfolleg sollt hnnn, deen e verdéngt. Sou hunn se um Chrëschtmaart selwer gemaachten Hondskichelcher verkaf, hu Spenden Opriff gemaach, an als ofschléissenden Héichpunkt, eng Ausstellung iwwer hire Projet organiséiert. Den Erfolleg vun all dësen Aktiounen war ëmwerfend: 2.850€ hunn se mat hiren Aktiounen era kritt!
Déi 4 Meedercher hunn doropshin spontan décidéiert dëse Betrag der Déiereschutz Organisatioun "GICVE US A VOICE LUXEMBOURG" ze iwwerrechen. Ausserdem hunn se beschloss, sech och nom Projet "4 Animals" aktiv am Déiereschutz zu Lëtzebuerg an iwwer d'Grenzen eweg, anzesetzen!
Net nëmme "GIVE US A VOICE LUXEMBOURG", awer all Déierefrënd aus Lëtzebuerg an der Grenzregioun, soen de generéise Studentinnen aus dem Iechternacher Lycée en opriichtege Merci, esouwuel fir deen aussergewéinlechen Don, wéi och, oder virun alllem, fir hire benevolen Asaz am Déngscht vun eise gemeinsame Frënd: den Déieren a Nout!
4 jeunes étudiantes font preuve d'un grand amour pour les animaux en détresse!
Dans le cadre d'un projet d'école intitulé "4 Animals", Chiara DENNEWALD, Vanessa MAES, Daniella ROQUE et Liz WEIS, étudiantes au Lycée Classique d'Echternach, se sont engagées corps et â,me afin de démontrer que beaucoup d'animaux sont victimes de violence!
En effet, les jeunes étudiantes ont investi une majeure partie de leurs loisirs en organisant des ventes de biscuits pour chiens "faits maison", des collectes et, finalement, une exposition ouverte au public qui a souligné et prouvé leur thèse.
Heureusement, tous ces efforts ont été couronnés d'un succès éclatant!
Les sympathiques étudiantes ont réussi à réunir la somme incroyable de 2.800€ et ont spontanément décidé d'offrir cette coquette somme à l'association protectrice d'animaux GIVE US A VOICE LUXEMBOURG en guise d'encouragement à continuer sur la voie tracée et aider les animaux en détresse.
Nous pensons que toutes et tous les ami(e)s d'animaux du Grand-Duché et de la Grande Région se joignent à nous pour féliciter les 4 étudiantes de leur initiative fort louable et novatrice.
Reste à préciser que les 4 vaillantes étudiantes, fortes de leur expérience positive , ont décidé unanimement de continuer à s'investir dans la lutte contre le fléau de la violence envers les animaux de ce monde!
Merci Chiara,
Merci Daniella,
Merci Liz,
Merci Vanessa!
4 Young Students Show a Great Love for Animals in Distress!
As part of a school project at Lycée Classique Echternach, Chiara DENNEWALD, Vanessa MAES, Daniella ROQUE and Liz WEIS, also known as the "4 Animals", raised awareness and held fundraising events in order to assist animals in distress.
During the last few months, these young students invested much of their free time into organizing sales of "homemade" dog biscuits, making calls, collecting donations and, ultimately, a public exhibition about their project.
All of their hard work paid off with resounding success! These four students managed to raise over €2,800 and decided to offer this generous sum to GIVE US A VOICE LUXEMBOURG as encouragement to continue on the path of helping animals in distress.
We know each and every animal friend of the Grand Duchy and the greater region will join us in congratulating these four students for their commendable and innovative initiative. We are honoured that they have chosen our association. Many, many thanks for all of your hard work Chiara, Daniella, Liz and Vanessa!!!
---