GIVE US A VOICE visits Classe 6 in Bascharage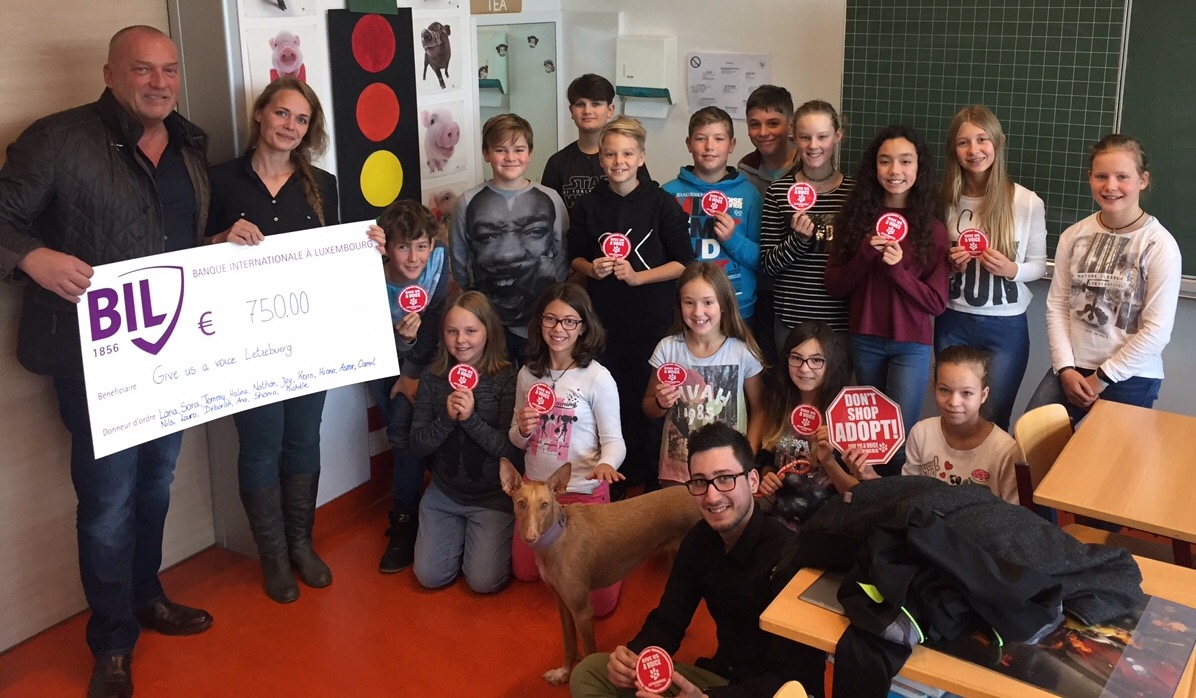 (English –Français)
Today GIVE US A VOICE was invited to Mme. Kirsch's cycle 6 class in Bascharage to give a presentation to pupils about what we do. Interested students took part in this little impromptu meeting and had a chance to talk and ask questions to the president of our association. Our purpose is to sensitize pupils and teach them to detect and react against violence towards animals and what they can do to help.
In addition, the students made a generous donation of 750€ to GIVE US A VOICE. They worked hard making and selling cakes and cookies to raise money to help animals in need. We wish to express our gratitude to the students for their commitment in the interest of our animal friends. We are very flattered and honored to have been a recipient of your generosity and to have been invited to speak to your class!
Nous avons été très contents, voire flattés, d'avoir été invités par Madame Kirch, institutrice d'une classe du cycle 6 à Bascharage, afin d'exposer aux écolier(es) la philopsophie et le fonctionnement de notre association.
L'intérêt de toute la classe fut extraordinaire et ils profitèrent toutes et tous de l'occasion de poser de nombreuses questions à notre président, Monsieur Daniel Freres. Il leur a expliqué que le but de nos actions dans les écoles du pays était de sensibiliser les écolier(es) à réagir contre la violence contre les animaux dès qu'ils sont en connaissance d'un tel acte criminel. Avant tout, ils les a informé(es) des moyens à employer en cas de détection d'une telle action à tout point de vue répugnante.
Vous imaginez notre étonnement et notre joie intense quand la classe nous informa qu'ils avaient organisés une vente de gâteaux et de cookies faits maison dans le seul but de collectionner de l'argent au bénéfice de GIVE US A VOICE, afin de nous soutenir dans nos actions dans l'intérêt du bien-être et de la dignité de nos amis communs: les animaux! C'est ainsi qu'ils ont rassemblés la coquette somme de 750€ qu'elle ont offerte intégralement à notre association! C'est avec un grand respect et une joie honnête que nous remercions la classe de Madame Kirch de ce geste plus que honorable et nous garantissons que ce montant sera intégralement investi dans le bien-être des animaux!! S'y ajoute notre gratitude d'avoir eu la possibilité d'informer les adultes de demain de la réalité et de la gravité de la violence contre les animaux!
---