Update on Tico: The Old Man from Barcelona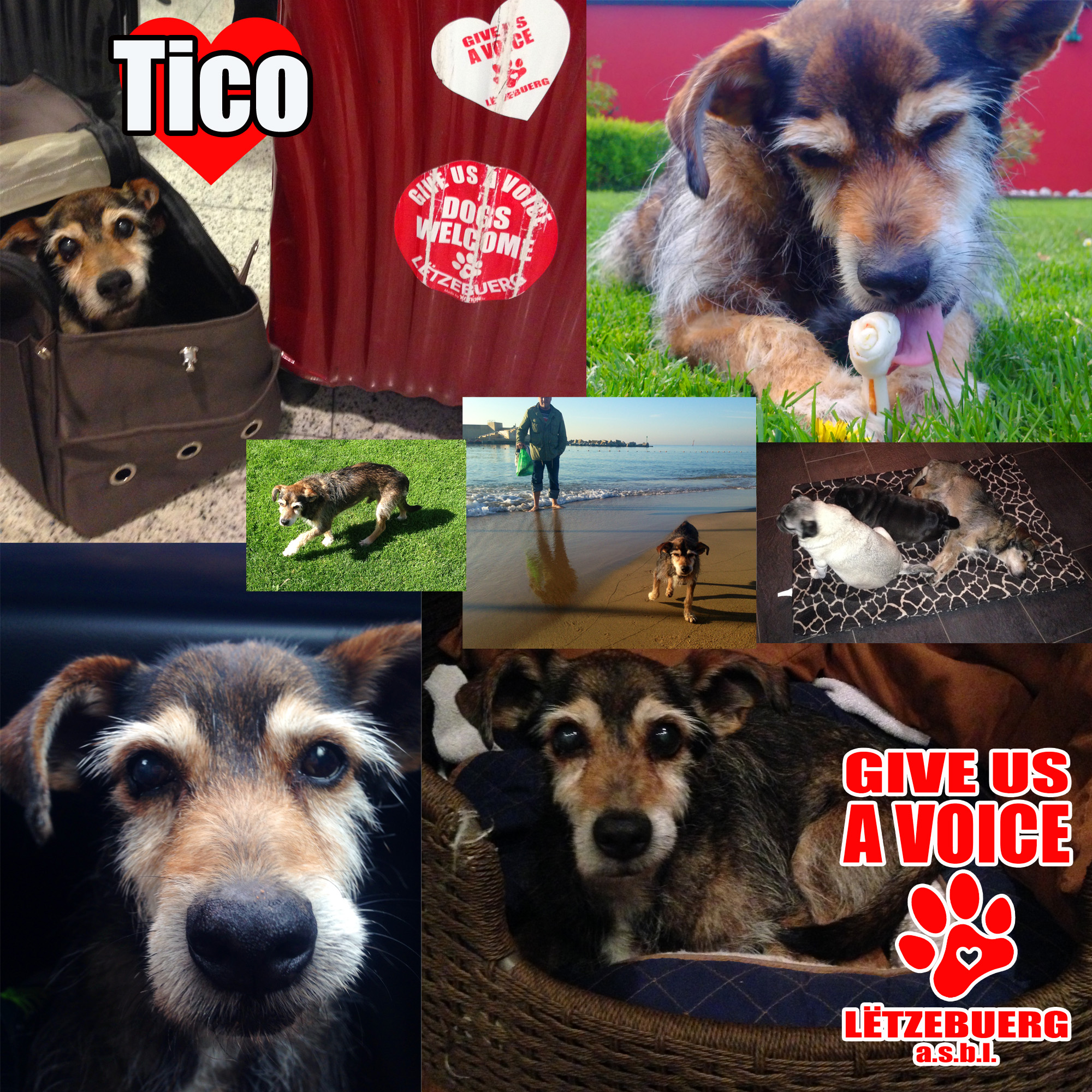 (English – Français – Deutsch)
Update from Tico!
Tico, the 17 year old rescue dog from Barcelona is adjusting to his new home in Luxembourg just fine. He loves getting his chin rubbed, laying on the grass on sunny days, and snuggling on his soft bed. He as only been with us a few short weeks but we can already see a big change in Tico. He found his bark, wags his tail with gusto, made some doggie friends and he moves like a dog of only 10 years! J We are so happy that we found this old man and hope to give him the best life possible for the rest of his days.
Tico, le chien âgé de 17 ans, que nous avons rescapé de Barcelone et pour lequel nous avons trouvé un foyer où il peut finir ses jours paisiblement et entouré de gens qui l'aiment et qui le calinent a, depuis, fait une métamorphose incroyable! Il s'est parfaitement accoutumé dans son nouveau domicile au Luxembourg. Il adore qu'on lui frotte le menton et les jours ensoleillés, il fainéante sur la pelouse. Il habita chez nous seulement quelques semaines avant que nous lui avions trouvé un nouveau foyer, mais nous avons tout de suite remarqué les énormes changements dans ses habitudes. Il a recommencé à aboyer, il remue sa queue avec enthousiasme, il s'est fait nombre d'amis parmi les chiens de son voisinage et il se déplace comme un chien de 10 ans! Nous sommes très heureux d'avoir pu donner à ce gentil vieillard la meilleure vie possible pour le reste de ses jours.
Neues von Tico !
Tico, der 17-jährige Hund den wir aus Barcelona mitgebracht haben und für den wir ein Heim gefunden haben wo er in Ruhe bis an sein Lebensende bleiben kann und wo er umgeben ist von Leuten die ihm Liebe und Geborgenheit schenken, hat eine unglaubliche Metamorphose gemacht!
Er hat sich in seinem neuen Heim in Luxemburg perfekt eingelebt. Er liebt es wenn sein Herrchen ihm das Kinn krault und an sonnigen Tagen faulenzt er auf dem Rasen hinter dem Haus.
Uns ist sofort aufgefallen dass der liebe Hundegreis seine Gewohnheiten total verändert hat seitdem. Er hat wieder gelernt zu bellen, wedelt vor lauter Freude mit dem Schwanz und hat sich in der Umgegend schon zahlreiche Freunde gemacht. Ausserdem bewegt er sich wie ein 10-jähriger Hund!
Wir sind glücklich dass wir dem alten, lieben Burschen das bestmögliche Leben für den Rest seiner Tage beschert haben.
---