Louis the Cat: A Happy Tail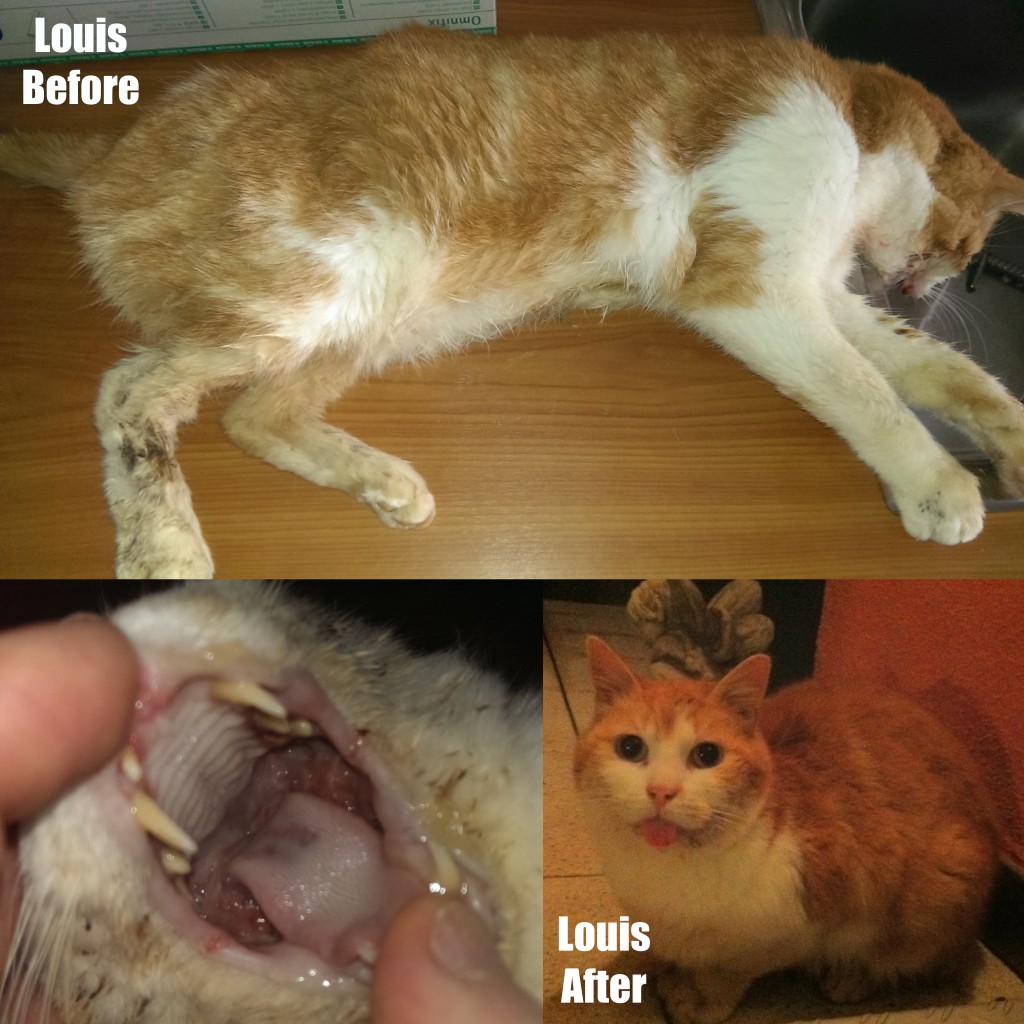 Louis, a shy but very sweet cat has found a new home! Poor, homeless Louis was wandering around the streets of Imbringen and found himself on the terrace of Ms. Birtz. Ms. Birtz took one look at Louis and decided that he needed help. She contacted Give Us A Voice where they advised her to take Louis to a veterinarian and that the expenses would be paid by the association. With a little tender love and care, Louis will be just fine. We are extremely delighted to announce that Ms. Birtz has decided to adopt Louis. May you two live happily ever after!
A nees huet GIVE US A VOICE asbl engem Déier gehollef!
De scheien, aawer ganz léiwe Kueder LOUIS huet elo en Doheem, Hien ass vun Haus zu Haus zou Imbringen gelaaf bis op d'Terrasse vun der Madame Maureen Birtz, déi sech spontan entscheed huet, dësem wonnerscheine Kueder ze hëllefen! Nodeems Sie eis kontaktéiert huet, hu mir hier geroode bei e Véidokter ze goen, eng Aktioun fir déi mir, GIVE US A VOICE, d'Fraisen iwwerhuele géngen. Mir freeën eis dem Louis an sénger neier Mamm gehollef ze hunn.
Nouveau domicile pour un chat grâce à GIVE US A VOICE asbl !
Louis, un timide mais très gentil petit chat, a trouvé un nouveau domicile ! En rôdant autour des maisons à Imbringen, il s'est finalement retrouvé sur la terrasse de Madame Birtz, qui a pris la décision spontané de porter aide à cette merveilleuse bête. Après avoir contacté les responsables de GIVE US A VOICE, ces derniers ont conseillé à Madame Birtz d'aller voir un vétérinaire et que les frais encourus seraient supportés par l'asbl. Nous sommes ravis d'avoir unis le chat Louis et sa future maman, Madame Birtz !
Kater Louis hat durch GIVE US A VOICE asbl ein neues Zuhause gefunden!
Louis, ein schüchterner und sehr liebevoller Kater, welcher von Haus zu Haus in Imbringen gezogen ist, befand sich plötzlich auf der Terrasse von Frau Birtz. Letztere rief GIVE US A VOICE asbl an um nach Hilfe ze fragen. Wir haben Frau Birtz geraten auf unsere Kosten einen Vieh Arzt aufzusuchen. Jetzt freuen wir uns dass es uns gelungen ist, Kater Louis eine neue Mamma zu finden!
---