Blacky from Luxembourg gets help!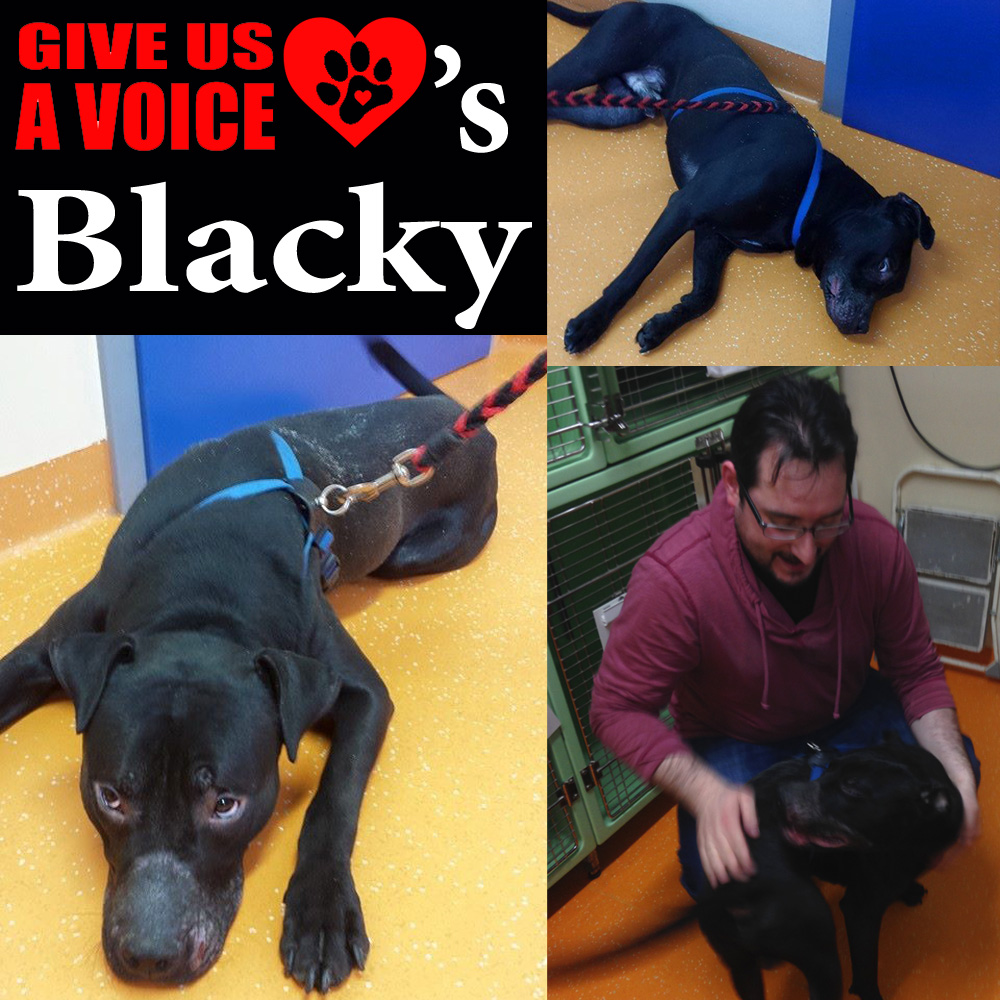 Meet sweet and adorable Blacky from Luxembourg.
Unfortunately Blacky was owned by someone who should have never been allowed to have a pet in the first place.  He was kept in a cage, rarely taken outside and was not properly cared for. Blacky muzzled at all times, not because he was aggressive, but because the owner didn't want their landlord to hear if the dog happened to bark. Not only was this extremely uncomfortable but it caused abrasions around Blacky's mouth.
A good Samaritan alerted GIVE US A VOICE to the plight of this poor dog and after a long fight, the owner finally released him.  Blacky is now safely and happily in the care of Schëfflenger Déiereschutzveräin (APAS) where he is getting the attention he needs.  He is malnourished, a little confused but a sweet boy who just wants to be loved.
Thanks to our members, GIVE US A VOICE was able to cover the costs for Blacky's treatment and get him on the road to recovery.
Der Leidensweg des Blacky aus Luxemburg!
Blacky hatte das Pech einen unwürdigen Eigentümer zu haben dem es nie erlaubt hätte sein dürfen einen Hund zu besitzen. Er war in einem Käfig gehalten, durfte fast nie raus und wurde nicht gepflegt. Da der Eigentümer nicht wollte dass der Hausbesitzer durch das Gebell von Blacky gestört wird, hat er dem armen Hund Tag und Nacht einen Maulkorb angelegt, obschon Blacky keineswegs aggressiv ist. Das war nicht nur sehr unbequem, sondern verursachte arg schmerzende Hautabschürfungen rund um Blacky's Schnauze.
Ein Tierfreund informierte uns von GIVE US A VOICE über das elendige Dasein dieses armen Hundes und nach einem langen Streitgespräch willigte der unwürdige Hundebesitzer schlussendlich ein den armen Hund frei zu geben. Blacky befindet sich im Moment in Sicherheit und glücklich im Schëfflenger Déiereschutzveräin(APAS) wo er endlich die Pflege und die Aufmerkamkeit erhält die er verdient! Er ist unterernährt, etwas verwirrt aber ein netter Kerl der geliebt werden will.
Dank unserer Mitglieder ist es GIVE US A VOICE gelungen die Unkosten für Blacky's Behandlung zu übernehmen und ihn auf den Weg der Besserung zu bringen.
Le calvaire de Blacky du Grand Duché de Luxembourg!
Blacky avait la malchance d'avoir un propriétaire indigne qui n'aurait jamais dû posséder un chien.  Il était tenu dans une petite cage à l'extérieur de la maison qu'il n'avait pratiquement jamais l'occasion de quitter. S'y ajoute qu'il n'a pas été soigné. Vu que le propriétaire du chien ne voulait pas que le propriétaire de la maison soit dérangé par les aboiements de Blacky, il a mis un museau jour et nuit au pauvre chien, bien-que Blacky n'a rien d'aggressif! Le fait de porter un museau en permanence n'était pas seulement très gênant pour le pauvre chien mais provoquait de graves égratinures autour de sa bouche.
Un ami des animaux informa les responsables de GIVE US A VOICE de la situation pitoyable de ce pauvre chien et après de longues discussions tumultueuses, le propriétaire consente finalement à libérer le pauvre et à nous le céder. Blacky se trouve actuellement en sécurité entre les mains du Schëfflenger Déiereschutzveräin(APAS) où il peut enfin profiter des soins et de l'attention qu'il mérite. Il est affamé et un peu confus, mais il reste un gentil gars qui n'aspire qu'à être aimé!
Grâce à la générosité de nos membres, GIVE US A VOICE a réussi à supporter les frais de traîtement de Blacky et de le ramener sur le chemin de la guérison et d'un monde meilleur!
---