After waiting 5 long years, Arte has found a home!
A few months ago we told you about Arte from Gran Canaria. Arte was found on the streets as a three month old puppy.  He had been hit by a car and his back leg was badly broken.  Volunteers from Anahi Sociedad Protectora de Animales rescued him and rushed him to the vet. After several surgeries and lots of convalescence, Arte recovered and was taken to Anahi animal shelter in hopes of finding him a new home. Days turned into weeks, weeks turned into months and months turned into years without anyone interested in adopting him.
Finally, after five long years of waiting, we are thrilled to announce that Arte has found a home!  Mr. and Mme. Olinger decided to open their hearts and their home to this sweet and lucky boy.  Last night Arte arrived in Luxembourg to meet his new family and start his new life.
We would like to give a great big thank you to the wonderful folks at Anahi who cared for Arte for all of these years.  We would also like to thank Mr. and Mme. Gasperini for transporting Arte from Gran Canaria to Luxembourg and most importantly we would like to thank Mr. and Mme. Olinger for giving Arte a second chance at happiness!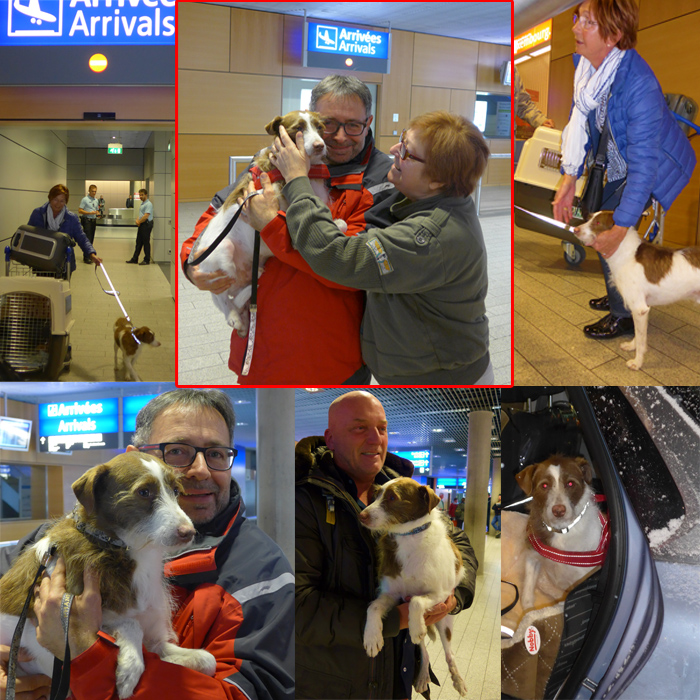 Viirun e puer Méint hu mer Iech déi traureg Geschicht vum Arte, e klengen Hond vun 3 Méint, erzielt. Den Arte gouf an enger Strooss zu Gran Canaria font. En hat déi hënnescht Patte gebrach well e vun engem Auto ugestouss a leie gelooss ginn ass. E puer Fräiwëlleg Membere vun Anahi Sociedad Protectora de Animales hunn sech em e gekëmmert a bei e Véidokter gefouert. No e puer Operatiounen an enger laanger Rekonvaleszenz, ass den Arte nees eenegermoossen um Dill. Anahi huet en dunn opgeholl an der Hoffnung eng nei Famill fir hien ze fannen. Wochen, Méint, jo souguer Joere si vergaang, mais kee wollt den Arte adoptéieren.
Op ee Mol, no 5 laange Joeren, hu mer d'Freed Iech matzedeelen dass den Arte e neit Heem font huet.D'Madame an de Här Ollinger hunn décidéiert hiert Häerz an hir Heem opzemaache fir den Arte opzehuelen. Déi viiregt Nuecht ass den Arte zu Lëtzebuerg geland a vu sénger neier Famill an Empfang geholl ginn.
Et ass eis en Uleies de Responsable vun Anahi e grousse Merci auszespriechen well se sech mat esou vill Léift 5 Joer laang em den Arte gekëmmert hunn. Eis grouss Unerkennung och un d'Famill Gasperini, déi den Arte aus Gran Canaria op Lëtzebuerg begleet hunn. Schlussendlech eise grousse Merci un d'Famill Ollinger, déi dem Arte eng nei Chance op e glécklecht Liewe geschenkt hunn.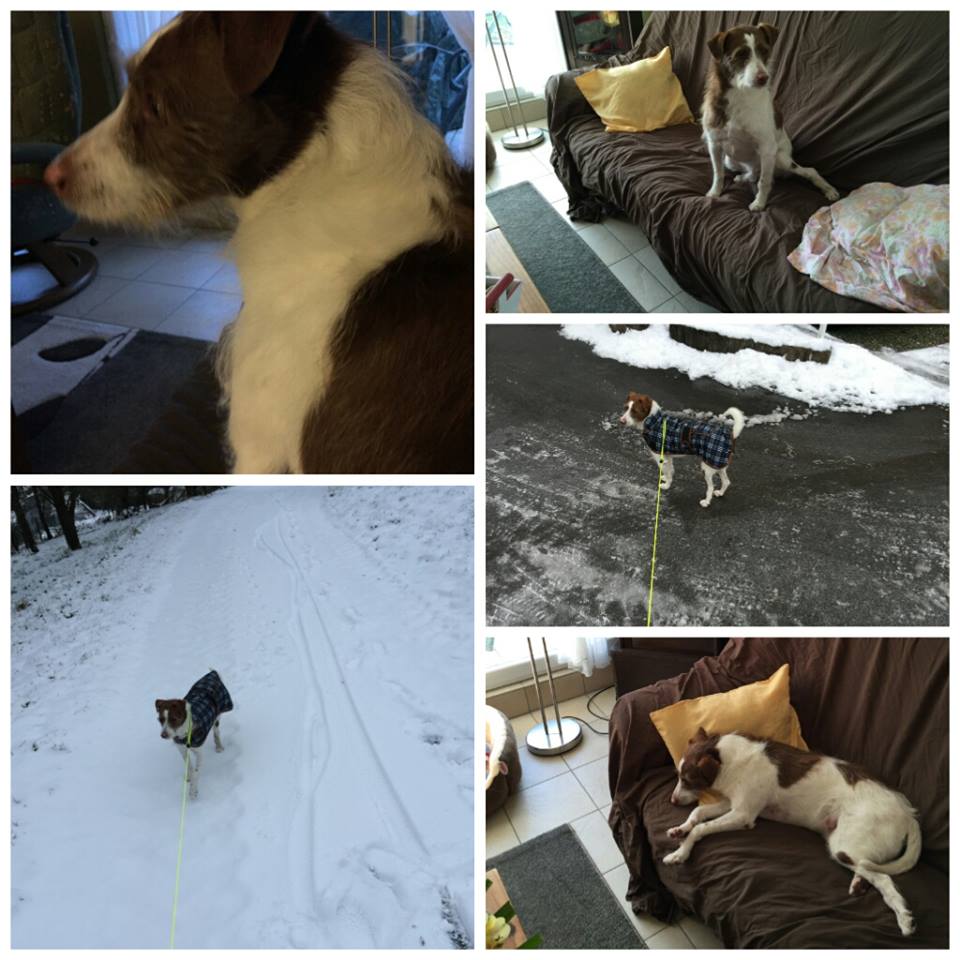 Il y a quelques mois, nous vous avons raconté les péripéties d'Arte, un chiot de trois mois. Arte a été trouvé dans les rues de Gran Canaria avec des jambes cassées. Il a été happé par une voiture et laissé sur le lieu de l'accident. Quelques bénévoles de Anahi Sociedad Protectora de Animales se sont occupés de lui et l'ont amené chez le vétérinaire. Après plusieurs interventions chirurgicales et une longue convalescence, Arte s'est doucement rétabli. Il a été pris en charge par Anahi dans l'espoir de trouver un nouveau foyer pour Arte. Malheureusement, après des années d'attente, aucun intéressé n'a été trouvé pour adopter Arte.
Mais, tout vient à point à qui sait attendre ! Après cinq longues années, nous sommes absolument ravis de vous annoncer qu'Arte a enfin trouvé un foyer. Madame et Monsieur Ollinger ont décidé d'ouvrir leur cœur et leur maison à ce petit chien mignon. La nuit dernière, Arte est arrivé au Grand-Duché pour rencontrer sa nouvelle famille et commencer une nouvelle vie.
Nous aimerions remercier de tout cœur les responsables d'Anahi qui se sont occupés d'Arte tout au long de ces dernières 5 années. Remerciements aussi à Madame et Monsieur Gasperini qui ont assuré le transport de Gran Canaria à Luxembourg. Finalement, mille mercis à la famille Ollinger de donner une deuxième chance à Arte !
---