"4 Animals" host a wonderful evening to help animals!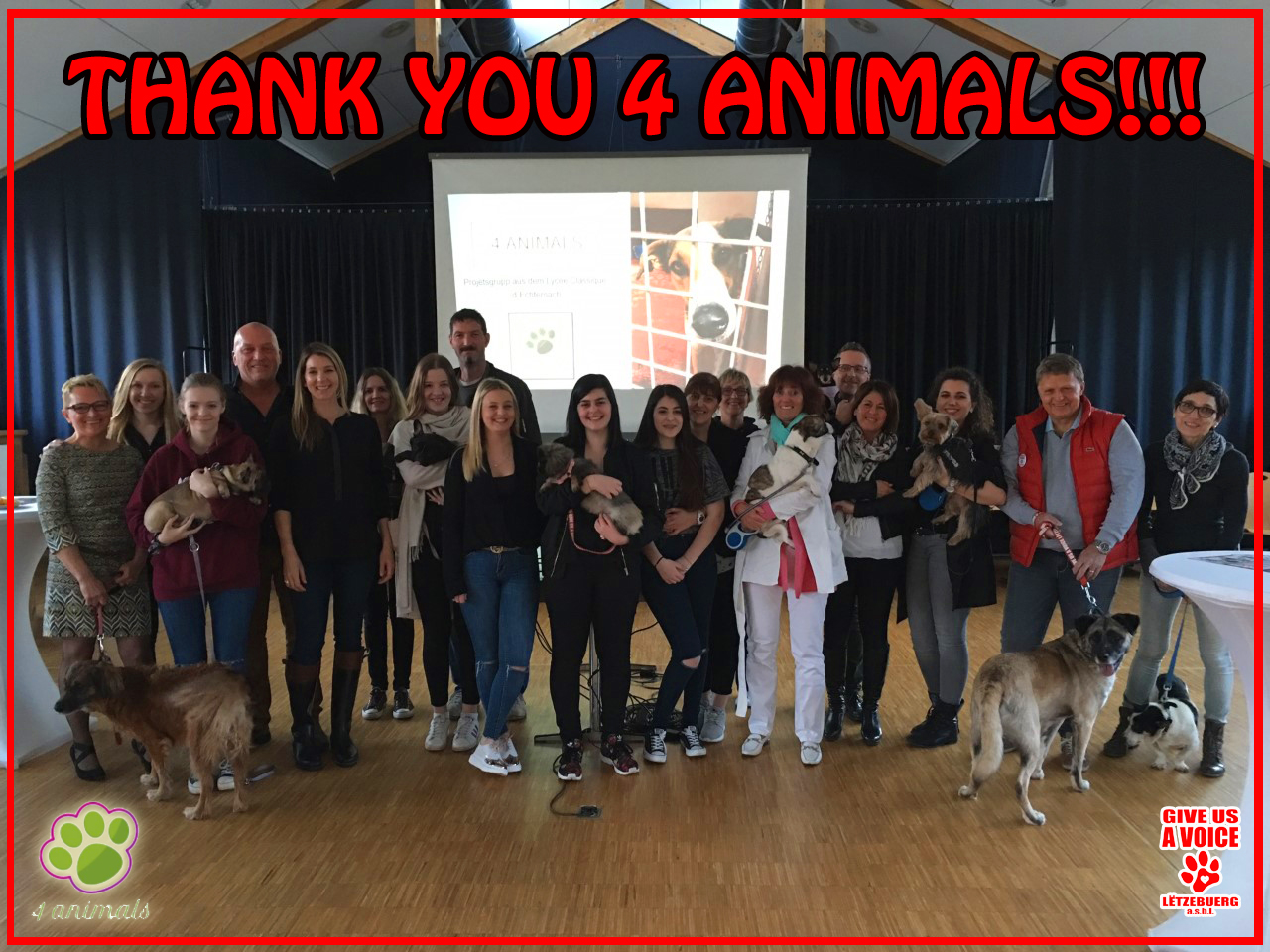 (English – Français – Deutsch)
GIVE US A VOICE would like to give a great big THANK YOU to 4 ANIMALS for organizing a wonderful night dedicated to raising funds to help animals in distress.  These four students from Lycée Classique d'Echternach put in a lot of hard work to make this a very special night for all. We are humbled by you actions and greatly appreciate your dedication!
Les responsables de GIVE US A VOICE se doivent de remercier vivement les sympathiques initiateurs de 4 ANIMALS de leur projet qui consista à  recueillir des dons pour nos amis les animaux! Ils ont investi beaucoup de temps libre et d'énergie dans cette belle aventure qui, finalement, fut couronnée d'un remarquable succès! Nous réitérons nos félicitations et nous nous réjouissons de notre future collaboration! Chapeau, 4 ANIMALS!!
GIVE US A VOICE bedankt sich recht herzlich bei den Verantwortlichen von 4 ANIMALS für Ihre Initiative, Spenden zu sammeln für in Not geratene Tiere! Die 4 Studenten aus den Echternacher Lyzeum investierten viel Zeit und Energie in Ihr Projekt, welches von überragendem und wohlverdientem Erfolg gekrönt war! Mit Ehrfurcht und grossem Respekt würdigen wir den einzigartigen Einsatz dieser 4 Studenten im Sinne unserer Freunde, den Tieren!! Im Voraus nochmal ein herzliches, aufrichtiges Dankeschön für Euern Einatz und Eure Zusammenarbeit!
---