Sweet Charly finds a sweet new family!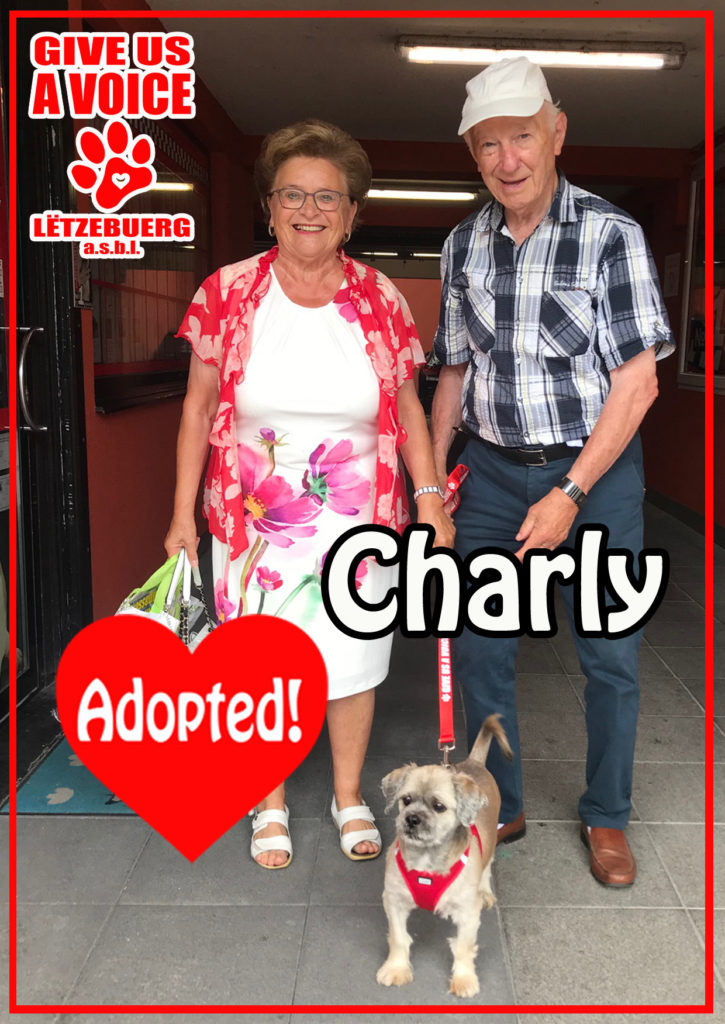 GIVE US A VOICE is over the moon to announce that Charly found his forever home! At 12 years old, Charly found himself without a family and without a home. Our hearts hurt for this lovely boy, especially knowing how difficult it is to find a family who is willing to give an older dog a chance. We know he is an amazing dog but sometimes people tend to overlook an older dog's wonderful qualities solely because of their age. You can imagine how thrilled we were when Mr. & Mme. Bergmann decided to open up their hearts and their home to our sweet Charly! We are at peace knowing he can live the rest of his life in comfort and surrounded by love.
There are so many great reasons why you should adopt an older dog!
Older dogs generally have had some training, both in obedience and house manners.
Older dogs have learned what "no" means and how to leave the furniture, carpets, shoes, and other "chewables" alone.
They have been "socialized" and learned what it takes to be part of a "pack" and to get along with humans and, in most cases, other dogs, and in some other cases, cats, as well.
Older dogs, especially those who have once known it, appreciate love and attention and quickly learn what's expected of them to gain and keep that love and attention.
Older dogs know how to let you finish the newspaper, sitting calmly next to you, while your workday stress flows away and your blood pressure lowers. They are also instant companions, ready for hiking, riding in the car, walking on leash, fetching, etc.
Finally, with older dogs, you know what you are going to get. You don't have to guess what they will look like, how big they'll grow or whether they'll turn out to have serious behavior problems.
Love is ageless!
If you would like to give an older dog a chance, please contact GIVE US A VOICE at +352 621 140 001. �!���?O�
---