The Best Gift in Life is a Second CHANCE!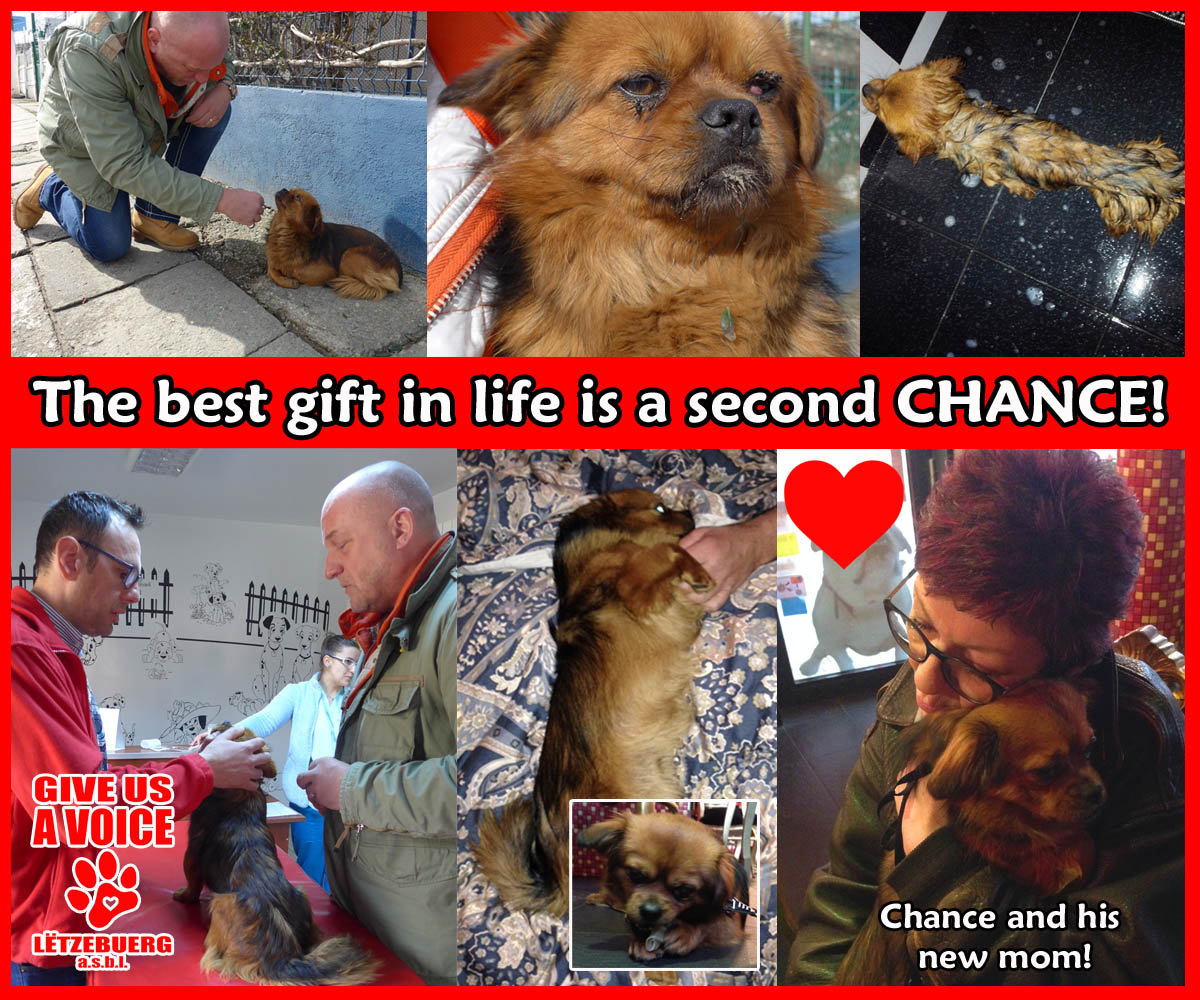 (English – Lëtzebuergesch – Français)
Dogs have a way of finding their way into your heart, and this little guy was no different. We came upon him on the streets of Romania, terribly skinny, dirty and with a severe eye infection. We decided then and there that this dog was coming with us, we were going to give him a second chance. "Chance" seemed like a fitting name for this lucky dog, one of the few Romanian street dogs to find a home. So it came to be that Chance travelled to Luxembourg, got the medical attention he needed and developed into a wonderfully happy and silly dog. We are sad to see him go, but thrilled to announce that Chance found his forever home today. Mme. Gaby Fonck is the proud new mom of this little man. We wish you both the best of luck and lots of happiness!
Hënn bréngen et ëmmer nees fäerdeg fir dass een se an d'Häerz schléisst, an dëse klenge Borscht ass do nët aanescht. Mir hunn e gesinn an de Stroossen a Rumänien, fierchterlech gouereg a mat schlëmmen Aaverletzungen. Spontan hu mer décidéiert deen aarmen Hond matzehuelen an him eng 2. Chance ze ginn. Chance schéngt och dee richtege Numm fir dëse glécklechen Hond, ee vu wéinege Rumänesche Stroossen Hënn déi en Heem fond hunn. So ass et dann och dass den Chance op Lëtzeburg gereest ass, déi néideg medezinnesch Hëllef kritt huet an sech zu engem wonnerbaren, glécklechen a bësche geckegen Mupp entwéckelt huet. Sou Leed et eis och deet dass mer e musse goe loossen, sou glécklech awer si mer dass den Chance e nei Heem fond huet. D'Madame Gaby Fonck ass déi nei houfrech Meeschtesch vun deem klenge Borscht. Mir wënschen allebéid vill Gléck an e ganze Koup Freed.
Les chiens réussissent toujours que l'on tombe amoureux d'eux. Le petit chiot, dont l'histoire vous est racontée par la suite, ne fait pas exception à la règle. Nous avons, à l'occasion d'un court séjour en Roumanie, rencontré ce pauvre chien, errant dans les rues, affamé et avec de graves lésions autour des yeux. Ecœurés, nous avons spontanément décidé de l'emmener au Grand-Duché et de lui donner une 2ème chance. « Chance » nous semblait un nom totalement approprié pour ce chien heureux, un des très rares chiens, qui traînent dans les rue de la Roumanie, qui ont trouvé un nouveau foyer ! C'est ainsi que Chance a fait le trajet vers le Luxembourg pour y être soigné et surtout, pour se développer par la suite en un chien heureux, un peu foufou ! Bien que nous sommes désolés de le laisser partir vers d'autres aventures, nous sommes toutefois extrêmement ravis que Chance a enfin trouvé un nouveau foyer pour toujours. Madame Gaby Fonck est la fière propriétaire de Chance. Nous souhaitons tout le bien du monde à ce nouveau couple et surtout, beaucoup de joie et de satisfaction.
---