Medicine on the way to Progat Animal shelter in Girona Spain!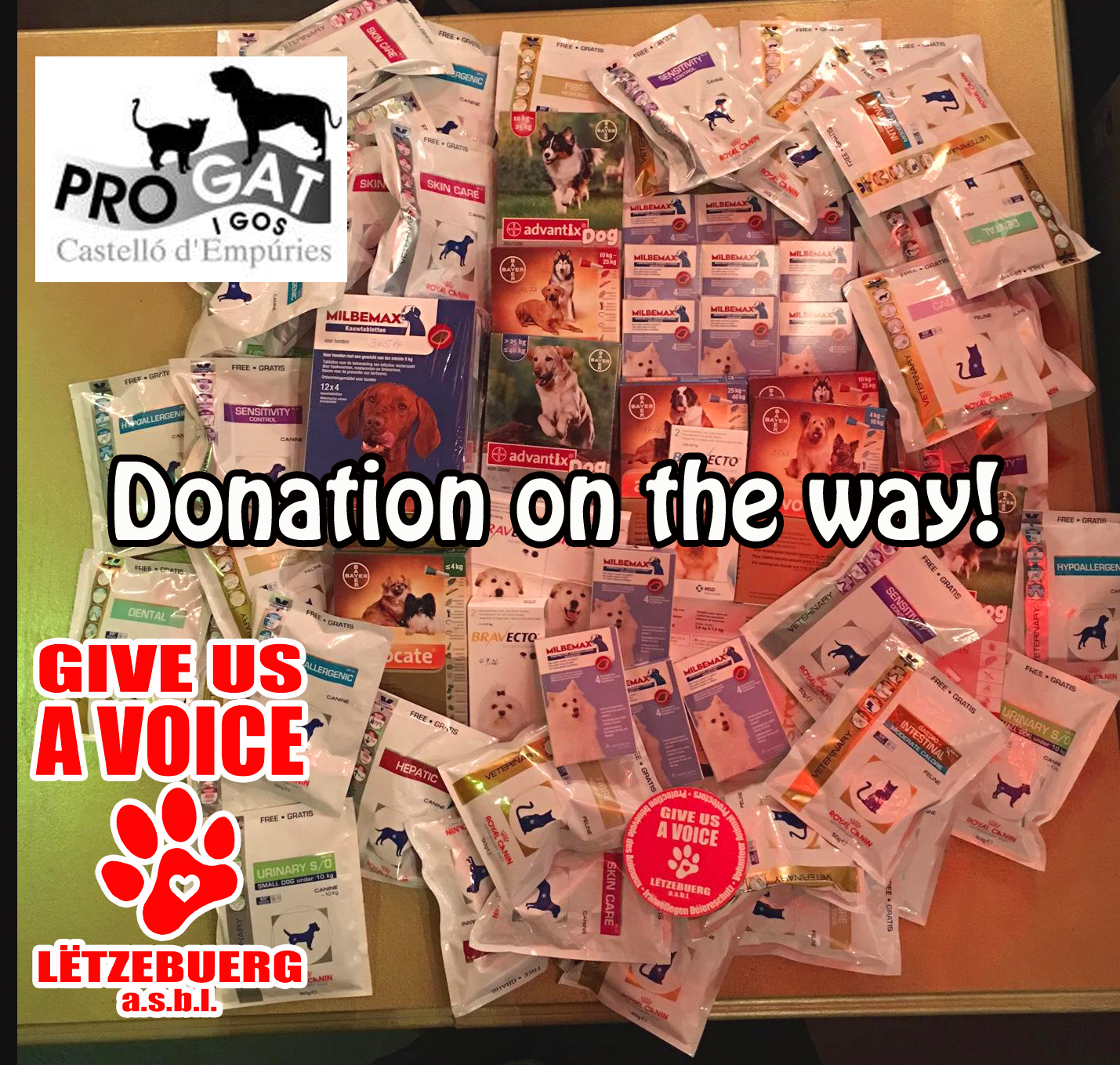 (English – Lëtzebuergesch – Français)
Thanks to the generous donations of our members, GIVE US A VOICE was able to make a sizable donation to PRO GAT AMPURIA animal shelter in Girona, Spain. This package contains medicine to care for over 100 dogs and cats as well as assorted treats. We would like to give a heartfelt thank you to all of our members who made this donation possible. Together we are making a difference!
Ein aufrichtiges Dankeschön an die Mitglieder von GIVE US A VOICE durch deren großzügige Spenden wir in der Lage waren, eine beträchtliche Medikamenten Spende an das PRO GAT AMPURIA Tierasyl in Girona(Spanien) zu machen. Die Lieferung beinhaltet Medizin sowie zahlreiche Leckereien für mehr als 100 Hunde und Katzen. Es ist uns ein Bedürfnis all unseren spendablen Mitgliedern zu danken welche diese lebenserhaltende Lieferung ermöglicht haben. Nur zusammen können wir so Manches bewegen!
Un grand MERCI aux membres de GIVE US A VOICE qui nous ont permis, grâce à leur générosité, de faire un don considérable à PRO GAT AMPURIA, un refuge pour animaux à Girona(Espagne). C'est ainsi que nous avons envoyé des médicaments ainsi que des mignardises pour plus de cent chiens et chats ! Nous tenons à remercier tous ces amis d'animaux de nous avoir donné l'opportunité de faire ce don qui peut sauver beaucoup de vies. Tous ensemble nous ferons la différence !
---