Koulie: Old dog finally has his day!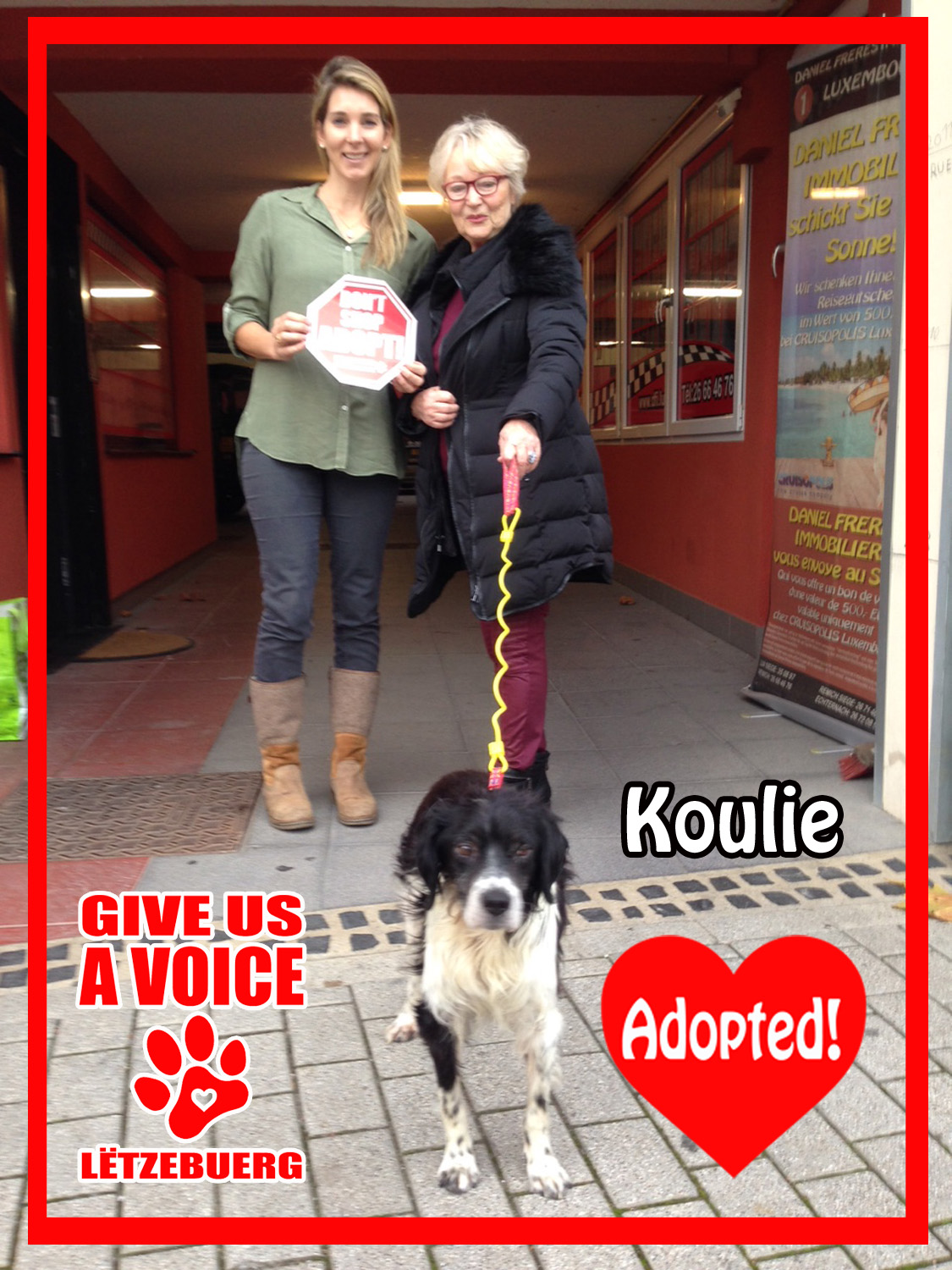 (English – Deustch – Français)
They say that every dog has his day and today was definitely Koulie's day! When Koulie's owner died, the family didn't want to take care of him so they tossed him out on the street. He was brought to a shelter where he spent over a year in sad desperation. GIVE US A VOICE happened to be making a food donation and saw Koulie. At almost 17 years old, the staff was worried he wouldn't make it through the winter because it would be too cold in his kennel. All it took was one sweet look from this old boy's eyes and we decided to bring him to Luxembourg and help find him a home. We are so thankful that Mr. & Mme. Kitayama decided to open up her heart and home to this lovely dog. Koulie is starting a new, happy chapter in his life and finally has a loving home to spend the rest of his days. A million thanks to Mr. & Mme. Kitayama!
Ein Sprichwort sagt dass jeder Hund einen Glückstag in seinem Leben hat! Wenn dem so ist, dann war heute definitiv der Glückstag von Koulie! Als der Eigentümer von Koulie starb, entschloss der Rest der Familie den Hund nicht zu behalten und haben ihn einfach vor die Tür gesetzt! Er wurde aufgegriffen und in ein Tierasyl gebracht, wo er während einem langen Jahr trauernd und wehmütig verbrachte. Da Koulie im biblischen Alter von 17 Jahren ist, fürchteten die Verantwortlichen aus dem Asyl dass das arme Tier den kalten Winter nicht überleben würde. Ein einziger treuer Blick von Koulie reichte und wir entschieden spontan den lieben, alten Hund mit nach Luxemburg zu bringen um ihm ein neues Zuhause zu finden.
Wir sind jetzt überglücklich Ihnen mitzuteilen dass Herr und Frau Kitayama entschieden haben Koulie ihr Herz und ihr Haus zu öffnen und ihm ein neues, definitives Heim zu schenken. Koulie hat somit das letzte Kapitel in seinem langen Leben begonnen und kann den Rest seines Daseins im Schutz einer liebevollen Familie verbringen.
Ein großes DANKE SCHÖN an die Familie Kitayama dass sie sich für eine ADOPTION und nicht für ein KAUF entschieden haben!
On dit que chaque chien a son jour de chance ! Aujourd'hui fut définitivement le jour de Koulie ! Quand le propriétaire de Koulie décéda, la famille, qui ne voulait pas l'adopter, le mettait devant la porte. Il a été attrapé et mis dans un asile pour animaux, où il vivait pendant un an, triste et désespéré ! Lorsque les responsables de GIVE US A VOICE se rendirent à l'asile pour faire un don de nourriture, ils détectèrent Koulie. Âgé de presque 17 ans, le personnel de l'asile craint que Koulie ne survivrait pas l'hiver étant donné que le froid glacial dans les cages de l'asile serait fatal pour notre gentil vieillard ! Un seul regard de ce merveilleux chien suffisait à ce que nous nous décidions d'emmener Koulie et l'aider à trouver un foyer. Nous sommes infiniment heureux de vous annoncer que Madame et Monsieur Kitayama ont décidé d'ouvrir leur cœur et leur maison à cet adorable chien. C'est ainsi que Koulie a l'immense chance d'ouvrir un nouveau chapitre dans sa longue vie et de pouvoir profiter de beaucoup d'amour et d'affection auprès d'une nouvelle famille jusqu'à la fin de ses jours.
---