Did you hear the story about the wild pig and the cow?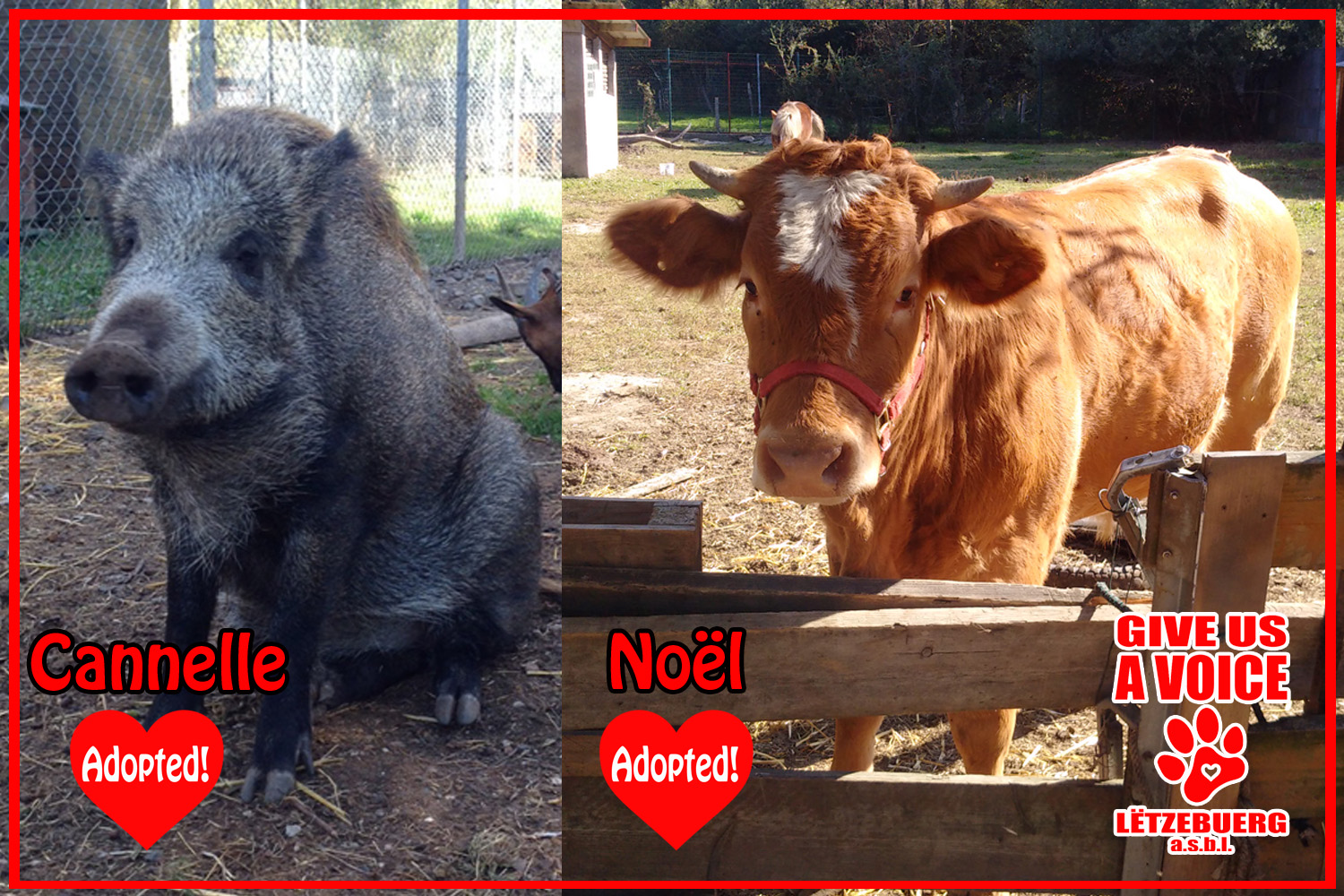 GIVE US A VOICE is happy to report that two more animals found their forever home.
Noël is a bull that was on his way to slaughter in the back of a truck. He somehow managed to break free and, incredibly, walked to the gates of the animal rescue organization. He is now going to live on a farm in Germany where he will be safe and content for the rest of his days.
Joining Noël in his new home is Cannelle. She is a wild pig that was found after her mother was shot. A family found her and raised this little pig in a loving home along with their kids and dogs. Unfortunately she grew too big and the pig had be taken to an animal shelter. Now Cannelle has found her forever home on a farm where she can live happy and free from the fear of being hunted.
We would like to thank the family who decided to give these two lucky animals a wonderful home. We wish you all the best!
Die kleine Gemeinschaft von GIVE US A VOICE freut sich Ihnen mitzuteilen dass es uns gelungen ist, 2 liebenswerte Tiere vor dem sicheren Tod gerettet zu haben. 
Noël, ein junger Stier, ist es gelungen aus dem Tiertransporter, welcher ihn zum Schlachter bringen sollte, zu entfliehen indem er die Hintertür mit seinen kräftigen Hinterhufen zertrümmerte. Was anschliessend geschah, ist unbeschreiblich! Die Flucht des terrorisierten Tieres führte es schnurstracks zu einer Auffangstation für Tiere!!
Verantwortlichen unserer Vereinigung, die zufälliger Weise vorort waren, gelang es den lieben, ängstlichen Stier binnen kurzer Zeit zu vermitteln. Es erfüllt uns mit Stolz und Freude Ihnen mitzuteilen dass Noël ein neues Heim gefunden hat auf einem Bauernhof in Deutschland. Hier kann er für den Rest seines Lebens in der liebevollen Obhut der Hofbesitzer in Frieden leben! 
Zu Noël gesellt sich das 2. Tier welches wir in der Auffangstation gefunden und ebenfalls an besagten Bauernhof in Deitschland vermittelt haben.
Cannelle, ein liebevolles, zahmes Wildschwein, dessen Mutter von Jägern getötet und von einer Familie, die es zufällig im Wald gefunden hatten, aufgenommen und grossgezogen wurde. Leider wuchs Cannelle zusehens,!so dass die Familie sich leider gezwungen sah das arme Schwein in besagte Auffangstation abzugeben. Jetzt kann Cannelle bis zu seinem natürlichen Ableben in Frieden leben in Begleitung von Noël und vielen anderen Tieren und läuft nie die Gefahr, genau wie seine Mutter, von Jägern oder Wilderern erschossen zu werden!
Es ist uns ein Bedürfnis uns über diesen Weg recht herzlich bei der Famile, welche unsere beiden leidgeprüften Tiere in Ihre Obhut genommen hat, recht herzlich zu bedanken und wir wünschen Noël und Canelle ein schönes langes Leben!
GIVE US A VOICE est heureux de vous informer que, grâce à notre prompte intervention, 2 animaux ravissants ont trouvé un foyer pour le reste de leur existence.
Il s'agit en l'occurrence de Noël, un taureau, qui s'est échappé d'un camion qui était en train de le conduire à un abattoir où une mort certaine l'attendait !
Il réussit à s'échapper de ses bourreaux et son échappée l'amena miraculeusement devant les portes d'une organisation de secours animal !
Actuellement, Noël est sain et sauf et réside éternellement dans une ferme en Allemagne, qui l'accueillait avec enthousiasme et affection. 
Il y sera en compagnie du second animal rescapé par notre association : Cannelle, un porc sauvage qui a été trouvé dans une forêt après que sa maman fut abattue sauvagement par des chasseurs. La famille qui l'a trouvée l'a adoptée sur le champ et l'éleva. Elle se trouva au sein d'une famille aimable ensemble avec des enfants et leurs chiens.
Malheureusement, Cannelle se développa rapidement à tel point qu'elle a dû être transférée vers un refuge pour animaux.
Grâce à l'intervention des responsables de Give Us a Voice, Cannelle a la chance inouïe de pouvoir vivre paisiblement à la ferme sans avoir éternellement peur d'être abattue par des chasseurs.
Nous tenons à remercier vivement les propriétaires de ladite ferme d'avoir décidé de donner à ces animaux chanceux un foyer où elle pourra vivre en paix, ensemble avec beaucoup d'autres ami(e)s et leur souhaitons une belle et paisible vie !
---