Cat hit by car, left seriously injured on the side of the road…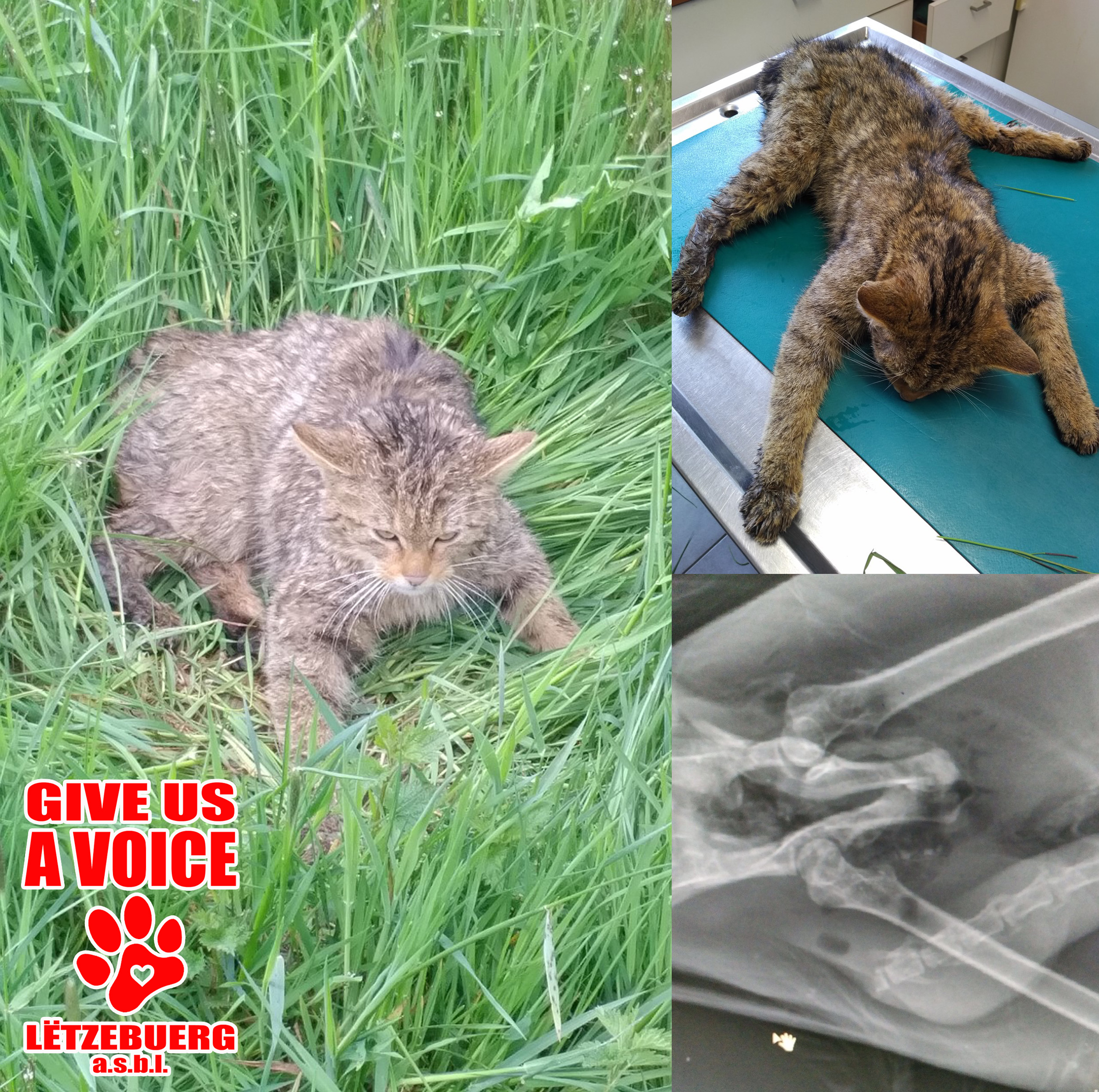 (Lëtzebuergesch –Français – Deutsch – English)
UGESTOUSSE KAZ SCHWÉIER VERWOND AM STÉCH GELOOSS! Tëscht Alzeng a Contern ass eng Kaz ugestouss a leie geloos ginn. Si huet d'Hëft an de Réck gebrach, a schwéier ënnerlech Verletzungen.
Déi Verantwortlech vu GIVE US A VOICE hunn all Méigleches gemaach, fir daat Déier ze retten an hunn et direkt beim Veterinär geféiert. Deen huet awer di arme Kaz missen aschléiferen wéinst de schwéiere Verletzungen a fir se net nach laang leiden ze loossen.
P.S. wann Dir een ugestoussent oder blesséiert Déier gesidd, da rufft ons w.e.g un (+352 621 140 013)
Am Viraus villmols Merci !
UN PAUVRE PETIT CHAT, VICTIME D'UN ACCIDENT DE ROUTE, ABONDONNE AU BORD DE LA CHAUSSEE.
Un chat, happé par un chauffard, fut abandonné, grièvement blessé, au bord de la route. GIVE US A VOICE est intervenu et a amené la pauvre bête chez le vétérinaire qui, vu les nombreuses blessures, a dû euthanasier le petit chat afin de le libérer des ses souffrances.
Nous vous prions de nous informer dés que vous apercevez un animal en détresse.
(+352 621 140 013)
Merci
KÄTZCHEN SCHWER VERLETZT AM WEGESRAND ZURÜCK GELASSEN.
Zwischen Alzingen und Contern wurde eine Katze schwer verletzt am Wegesrand von einem unverantwortlichem Fahrer zurückgelassen. Die Verantwortlichen von GIVE US A VOICE begaben sich, nachdem sie telefonisch benachrichtigt wurden, sofort an Ort und Stelle und überbrachten das arme Tier einem Veterinär. Die Verletzungen der armen Katze waren jedoch derart schlimm, dass der Arzt das leidende Tier leider einschläfern musste.
Werte Tierfreunde(innen)
Wir bitten Sie inständig uns sofort zu benachrichtigen wenn Sie Zeuge eines verletzten Tieres auf der Straße werden.
P.s.: falls Sie ein angefahrenes Tier finden, rufen Sie uns bitte unter der Nummer +352 621 140 013 an.
Vielen Dank im Voraus !
POOR LITTLE CAT, RUN OVER BY A CAR AND LEFT TO SUFFER ON THE SIDE OF THE ROAD.
A cat, hit by a reckless driver, was left seriously injured at the side of the road. GIVE US A VOICE intervened and brought the cat to the vet. Unfortunately, due to his many injuries, the poor cat had to be euthanized to release him from his suffering.
If you see any animals in distress, please call GIVE US A VOICE. (+352 621 140 013)
Thank you !
---